FlipBuilder Unveils a Booklet Maker for the Real Estate Industry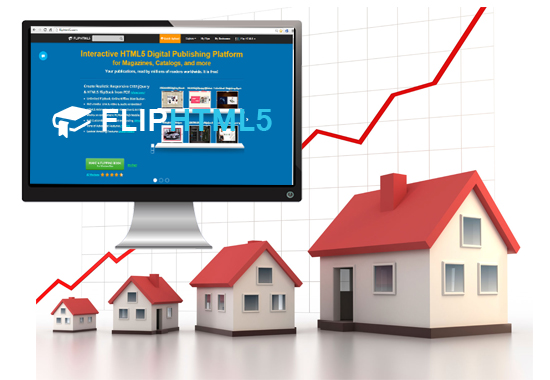 The booklet maker allows real estate marketers to enhance their creative skills and design stunning booklets that appeal to massive audiences online.
FlipBuilder has just unveiled a booklet maker for the real estate industry. Flip PDF is an intuitive platform for offering knowledge and tools that can help users enhance their creative skills when designing realtor e-booklets. The software offers innovative solutions that meet the needs of the evolving and diverse real estate markets. Its tools can help real estate brokers and agents increase engagement with customers online and offline.
FlipBuilder understands that technology has transformed the face of consumerism. That is why it capitalized on innovative technology to come up with a booklet maker with advanced features. Real estate marketers can utilize the features to design booklets that grab attention and evoke audiences' desire for their products. With Flip PDF, users can quickly turn their static PDF files into dynamic and interactive digital booklets.
"At FlipBuilder, we know the efforts real estate marketers put in when marketing property," said Winston Zhang, CEO of FlipBuilder. "We developed our software with features that will help them focus entirely on property advertising. They can now use our platform to their advantage and make sure their booklets entertain potential buyers and push them towards taking action."
FlipBuilder has been developing easy-to-use software with plenty of built-in templates and themes that can be integrated into any digital booklets. It provides users with full control over their projects. With rich media contents such as image slideshows, links, videos and sounds, users can create engaging real estate booklets that will blow the audiences' mind away. The design setting allows them to provide readers with essential details such as virtual property viewing, just like in real-time.
Flip PDF gives users the power to customize their booklets' appearance with custom colors, logos, and backgrounds that speak their brands. Functionalities such as page flipping effects invite audiences to sift through the pages and browse users' products just like they are reading real booklets. FlipBuilder offers its clients holistic solutions that ensure they design, publish, and share stunning booklets with the digital world.
About FlipBuilder
FlipBuilder is a global leader and innovator recognized for developing intuitive software that customers use to create eye-catching digital publications. The company offers solutions that help users market their brands and products using self-designed digital publications. Users have free access to abundant resources for designing and publishing their projects. For more information, please visit http://www.flipbuilder.com/.
Media Contact
Company Name: FlipBuilder.com
Contact Person: Customer Service
Email: Send Email
Phone: +86 020-61972665
Country: HongKong
Website: http://www.flipbuilder.com/