Gobiyond is Bringing Back Good Music, One Dope Vibe At a Time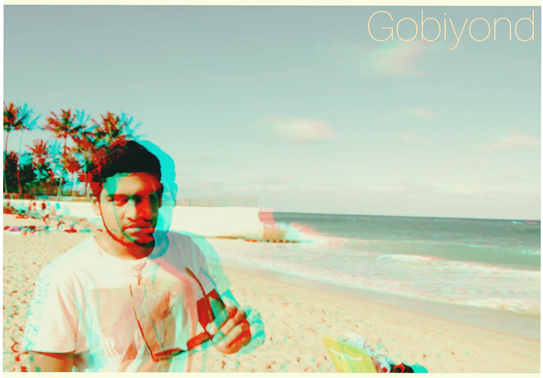 Oct 1, 2019 – Los Angeles, CA – When you think of good music to match good times and good vibes, thoughts of nostalgia from the 90's and early 2000's might come to mind. While it might get a little boring listening to the same old songs everyday, don't worry because Trinidad and Tobago-born and raised independent artist on the rise, Gobiyond has got you covered with fresh new sounds and perspective.
Growing up in the church and being heavily influenced by Gospel music, the 26-year-old artist has been a singer all his life. Multi-faceted in every sense of the word, Gobiyond effortlessly blends influences from different genres, including but not limited to Hip Hop, R&B, Alternative and Rock, showing Gobiyond is preparing to do just that – go beyond current limitations and expectations of what good music should be.
With Gobiyond it's not about the money, the clothes, the cars or even the women, but the health of the culture as a whole. On a mission of bringing back real music with substance, Gobiyond's music packs plenty of vibes, as evidenced by his growing fanbase and 80,000 monthly Spotify listeners. Humble, talented and blessed with the drive to succeed, it won't be soon before long Gobiyond is a household name. Check in with his previous releases on Spotify and stay tuned for more from the future of music: Gobiyond!
Singles
In My Life: open.spotify.com/track/5d8t8d205K27stX5cgPmW1
If You Ever Need Me: open.spotify.com/track/5JF54D8UOdrTWXEOjp1RIB
Get Stronger: open.spotify.com/track/7GgfZ9CbzOh9e1RU1IjFRE
Faded ft. 8×8 Bocci: open.spotify.com/track/6K1LvCkel1HQRl1bJ4tEzN
Stay Connected –
Instagram: @gobiyondmusic
Spotify: open.spotify.com/artist/3a29T0hJEVMHl0x1bFGG3N
Media Contact
Company Name: Gobiyond Music
Contact Person: Timothy Gobin
Email: Send Email
Phone: 5613858213
Address:3164 N Jog Rd Apt 9111
City: West Palm Beach
State: Fl 33411
Country: United States
Website: open.spotify.com/artist/3a29T0hJEVMHl0x1bFGG3N