Behavioral Capitalism – A Way to Dominion? By Erich von Werner Society
• Human behavior is a usable raw material.
• This raw material has developed into a production factor due to technological progress.
• This production factor has led to new business models that now have a massive impact on economic, political and social life.
• It is therefore necessary to speak of a new variation of capitalism: Behavioral Capitalism.
• This new form of capitalism is not yet understood as such, which entails the danger that it creates power and market relations that can hardly or only with great difficulty be corrected later.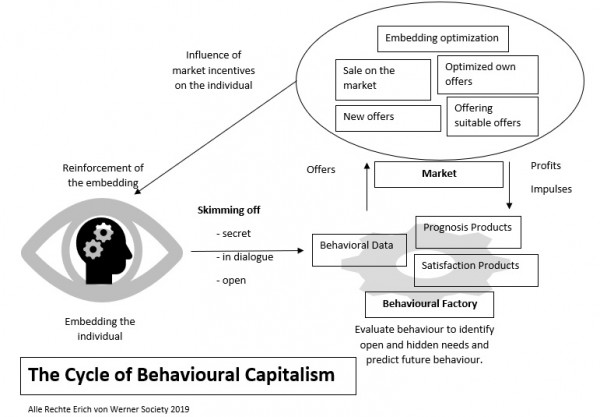 The world is experiencing a change of times and an era of change. Dynamic, fast and at which point can this be recognized more clearly than by technological progress, which powerfully and at an incredible speed changes personal and community life and leaves almost no field untouched, be it politics, society or economy. Within the framework of this process, influence has shifted and new ones have been established. But all that almost imperceptibly, almost creepingly in the shadows and yet at the end almost all of it tangent. Technology more than ever means power and this special influence through the smart world can be found today in the western world astonishingly bundled with a few companies, which naturally have little interest in explaining the risks of their activity too publicly because they primarily see the opportunities of their actions and not the dangers.
This new influence of the large technology groups, which often exist only for a few years, is astonishing and astonishing, as is the development that their products have become an indispensable part of everyday life for many people and society at breakneck speed. A silent conquest and yet they are much more than just clever business models that can be easily integrated into the existing. These companies are only players on a playing field that has made their existence and growth possible in the first place. One thing that has too often been underestimated and overlooked so far is Behavioral Capitalism.
For more information, visit the website of the Erich von Werner Society (www.understandandchange.de) or refer to the publications available free of charge in the scientific networks.
Alternatively, you can also check the book "First Foundations of Behavioral Capitalism: A New Variety of Capitalism Gains Power and Influence" by Andreas Herteux (www.andreasherteux.com), which summarizes the current state of research on Behavioral Capitalism.
Media Contact
Company Name: Erich von Werner Society
Contact Person: Andreas Herteux
Email: Send Email
Phone: 97842 Karbach
Address:Birkenfelder Straße 3
Country: Germany
Website: http://www.understandandchange.com/