More Labs is now offered Nationwide Through Mr. Checkout's Direct Store Delivery Distributors.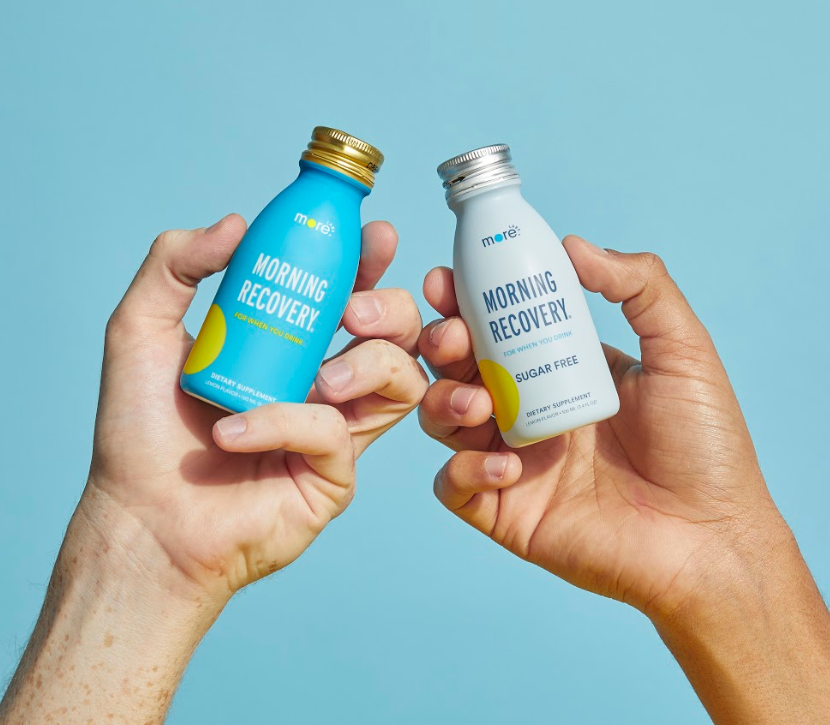 Morning Recovery offered in Original and Sugar Free will reduce the negative effects of drinking alcohol by 80%
Morning Recovery is a dietary supplement in a 3.4 ounce bottle that offsets the negative effects of drinking alcohol by detoxifying and boosting liver function. Rooted in principles of science, we created our product backed by rigorous research and a team of tenured university scientists.
Based in Los Angeles, More Labs, makers of Morning Recovery, is a biohacking supplement company that started with the basic idea that you shouldn't have to compromise between having fun and being productive. It all came about when co-founder, Sisun Lee, went on a trip to South Korea — a land where the work hard, play hard lifestyle is the norm.
After a late night out with friends, he came across bottled tonics promised to end rough mornings after drinking. Amazed by how effective they were, he dove into research and connected with Dr. Jing Liang, a DHM researcher and USC professor. From there, the first version of Morning Recovery was born.
In just over two years, Morning Recovery has sold over one million bottles through their own site, Amazon and traditional retail outlets. The brand has gained traction in larger retail chains including 7 Eleven, CVS and Total Wine & More. Retailers have reacted very positively to the brand because Morning Recovery leads a new category, is entirely incremental to other items and is high impulse for shoppers that drives basket ring.
Sales of Morning Recovery in 2019 are 7 times higher than 2018, with more larger chain authorizations to be announced shortly.
Offered in Original and Sugar Free, Morning Recovery has been proven in clinical studies to reduce the negative effects of drinking by 80%. Drink it tonight and bounce back tomorrow.
Media Contact
Company Name: More Labs
Contact Person: Josh Groff
Email: Send Email
Phone: 206-550-5384
Country: United States
Website: https://mrcheckout.net/morning-recovery/