10-Year Old Entrepreneur Lena Ford Invites for A Brand Launch Party This October
Marietta, Georgia – October 8, 2019 – Lena Ford, a 10-year old entrepreneur, is pleased to invite everyone to join the upcoming launch party of Positively Lena, LLC on October 13, 2019, at 1465 Canton Rd, Suite 100, Marietta, GA from 3-6 pm. Participants are asked to bring an art supply to be donated to a local charity.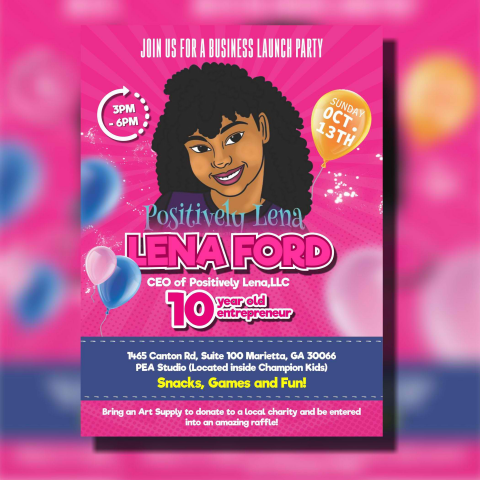 When Lena Ford was only seven years old, she launched the idea of "ARTing for You." The concept; collect art supplies and donate them to foster homes, transitional homes, and shelters to provide for children what they may not have.
At a very young age, Lena was already displaying great interest in making an impact in the world by promoting positive thoughts and self-love. Her passion has led her to design and create fashionable accessories with positive messages. One of the favorites are handmade, custom key chains for any age. The designs include motivating words or messages such as "Shine Bright," "Stay Fabulous," and "Positive Vibes Only." With a vision in place and a goal in mind, Positively Lena, LLC was born.
After several conversations with her mom, Lena has decided she will make an impact in the world by combining the things that she loves the most; art, words, and fashion. Creating fashionable, inspiring key chains was the answer, but just the beginning. Lena dedicates a portion of sales from the accessories to purchase art supplies to support "ARTing for You."
Lena says, "When you purchase a key chain from Positively Lena, I want you to feel good knowing that you have a fashionable, one of a kind key chain and that you are helping a child have access to art supplies."
About Lena Ford:
Lena lives with positivity each day, once helping a friend who was having a sad day. She reminded her friend that there are still positive things going on in her life. The friend felt better and thanked Lena for being so positive. As the young CEO of Positively Lena, LLC, Lena Ford uses her creative skills for making custom-made accessories with positive words and messages. She is a confident, encouraging, empowering, young lady with a love for arts, fashion and always keeping a positive attitude. Lena wants to serve as a good example that age should not stop anyone from sharing beautiful words that can positively change someone's life. Lena Ford aims to spread self-love through her accessories that can be used as a reminder of who you want to be each day.
Interested in joining the launch party of Positively Lena or shop for custom accessories? Visit www.positivelylena.com or email at [email protected].
Media Contact
Company Name: Positively Lena, LLC
Contact Person: Tressie Bloodworth-Ford
Email: Send Email
Phone: 678-994-7544
Address:257 Lawrence Street #195
City: Marietta
State: GA 30061
Country: United States
Website: www.positivelylena.com