Drink Perfector, an Innovative Invention to Enjoy Beverages at Their Most Flavorful Temperatures
VALPARAISO, IN – OCTOBER 15, 2019 – There is a drink or beverage made for every season and every occasion. But every drink – whether coffee, tea or wine – also has a unique temperature at which its taste and aroma are enjoyed the best. Until now, beverage drinkers had to rely on guesswork, but here is an accessory that does the job automatically – the Drink Perfector.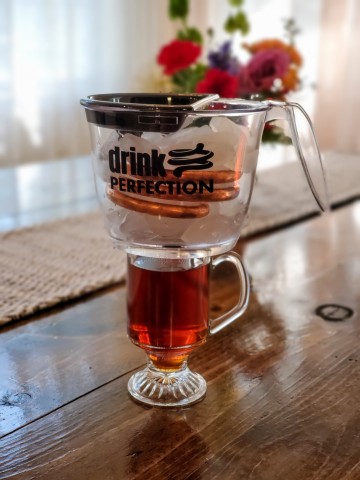 An innovative gift idea, the Drink Perfector was invented by Dan Abrell, CEO of Drink Perfection. Launched at the 2019 Coffee Fest Trade Show in New York City, the Drink Perfector allows cherishing beverages at their optimal drinking temperature, revealing the fullness of flavor notes and beverage bouquets that otherwise get missed.
For instance, the six flavors points of bourbon – fruit, floral, sweet, wood, grain, spice – can be enjoyed without having to drink it neat. The Drink Perfector makes bourbon perfect at 60-65°F, with no need to add ice cubes that could actually break the flavor points.
"I invented the Drink Perfector so that beverage consumers could enjoy their favorite beverage the way it was meant to be experienced. Hot beverages, wine, and even bourbon all have specific ideal drinking temperatures. Within seconds, the Drink Perfector brings beverages to the optimal temperature, perfect for experiencing the fullness of flavor notes and beverage bouquets, which are indiscernible at conventional serving temperatures. Within seconds," says Abrell.

Simply fill the Perfector container with the recommended amount of ice, and then pour the beverage in the top reservoir and let it percolate down into the cup or glass. There is no guesswork, as the temperature will immediately reach its range of flavorful best when this patented, made in America Drink Perfector is at work.
Wine lovers will especially like the Drink Perfector, as enjoying wine at its right temperature takes some effort and guesswork. The red vintages are usually uncorked at room temperatures, and the white after refrigeration. The Drink Perfector brings them to the recommended temperatures: 60°-65°F for reds and 50°-55°F for whites. In addition, it also aerates the wine for peak perfection!
Lovers of black coffee, tea or hot cocoa need not wait for the drink to cool down sufficiently, nor do they need to brave the hot temperatures. Instead, the Drink Perfector takes away health risks of drinking very hot drinks and brings back the joy of drinking hot beverages.
The Drink Perfector, an ideal gift, is now available for online purchase at: www.drinkperfection.com/shop
For more information, please visit: www.drinkperfection.com
Media Contact
Company Name: Drink Perfection
Contact Person: Chip Gregory
Email: Send Email
Country: United States
Website: http://www.drinkperfection.com/