Thailand's Film Industry expects strong OTT deals at the American Film Market (AFM)
6-13 November 2019
October 21, 2019 – The Department of International Trade Promotion (DITP) is confident that Thailand's film industry has a strong future, with increased competition amongst OTT platforms. Eight leading Thai companies will represent Thailand's film industry at the upcoming American Film Market.
Mr. Somdet Susomboon, Inspector General, Acting Director General Department of International Trade Promotion, Ministry of Commerce expressed confidence in the industry's growth, as a result of new opportunities presented by OTT platforms.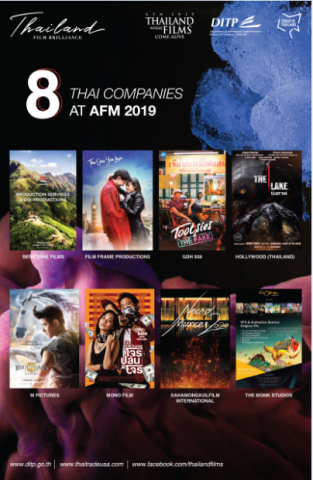 "Thailand's film industry, in common with the film industries of countries across the globe has had to adapt to a changing distribution environment. Previous models relied on a theatrical release, followed by DVD and television sales. The rapid decline in the sales of physical media such as DVD presented challenges to the income stream of content producers.
However, we are now seeing that the rise in OTT platforms can provide a vital revenue source. While the market for physical media declined, the audience need for entertainment remained strong. International services like Netflix and Apple TV, as well as regional brands such as Hooq and iFlix are fulfilling this audience need by bringing entertainment to audiences via their televisions, computers, tablets and smartphones. New services from major players like Disney + will increase competition, and benefit the content producers.
The Department of Trade Promotion (DITP) has identified six core strengths within the Thai film industry which can attract international markets.
1) Action Films
Thai action choreography, stunt and action performers, and rigging crews have developed a strong international reputation. The action genre crosses international borders, and retains a strong international market.
2) Horror Films
The horror genre has been popular in Thailand since the inception of the industry. Thailand's film-makers have developed their skills to not only provide the thrills and chills, but to create psychological depth and complexity.
3) Animated Content
Thailand's artistic talent and technical skills, combined with a modern technology infrastructure has supported the growth of a strong animation industry. While outsourcing remains an important source of revenue, Thai companies are developing their own IP and international co-productions.
4) Drama Content
The success of 'Bad Genius' and other drama films in the commercial markets, and the success of Thai films at international festivals has demonstrated that there is a strong audience for original dramatic concepts. Thailand is particularly skilled at producing romantic comedies, a popular genre throughout Asia.
5) Television Series Content
Thailand's television producers have developed a strong international market for original series. This has been supplemented by the advent of original series produced in Thailand for Asian and international audiences. Thailand's television series producers expect significant growth.
6) Production and Post-production Services
Thailand's incentives program has already benefited a number of international productions, and along with Thailand's unique locations and world-class crews, has resulted in a record year for international productions in Thailand. High production values and cost-effective services will continue to cement Thailand's reputation as a highly attractive base for international productions.
"This is the fifth year that the Department of International Trade Promotion (DITP) has supported Thai companies attending AFM under the Thailand umbrella program. During that time the industry has gained vital experience, understanding and knowledge of the requirements of the international market, which enable them to target world sales from the very start of the production process."
With eight leading Thai companies represented in a single location, and with a co-ordinated marketing and matching approach, Thailand's film industry presents a strong brand at AFM. An information centre at Atrium 5C provides a 'one-stop' solution for producers and distributors seeking licensed content, services and general information about the opportunities provided by Thailand.
For more information, visit:
www.thaitradeusa.com
www.facebook.com/thailandfilms
Media Contact
Company Name: Department of International Trade Promotion, Ministry of Commerce
Contact Person: Paul Spurrier
Email: Send Email
Country: Thailand
Website: http://www.ditp.go.th/