Commercial Seaweeds Market Projected to Reach $21.11 Billion by 2023 | Top Key Players are Cargill, DowDuPont, Roullier Group, COMPO EXPERT, CP Kelco
The commercial seaweeds market in North America is projected to grow at the highest CAGR during the forecast period, due to increasing awareness about the nutritive value of seaweeds, growing investments in R&D activities, and rising consumption of seaweeds in a wide range of industrial applications.
The report "Commercial Seaweeds Market by Type (Red Seaweeds, Brown Seaweeds, Green Seaweeds), Method of Harvesting (Aquaculture, Wild Harvesting), Form (Liquid, Powder, Flakes), Application (Food, Feed, Agriculture), and Region – Global Forecast to 2023″, The commercial seaweeds market was valued at USD 13.07 billion in 2017 and is projected to reach USD 21.11 billion by 2023, at a CAGR of 8.4% from 2018, in terms of value. The objective of this study is to define, segment, and project the size of the commercial seaweeds market based on types, forms, methods of harvesting, applications, and regional presence, over a five-year period ranging from 2018 to 2023.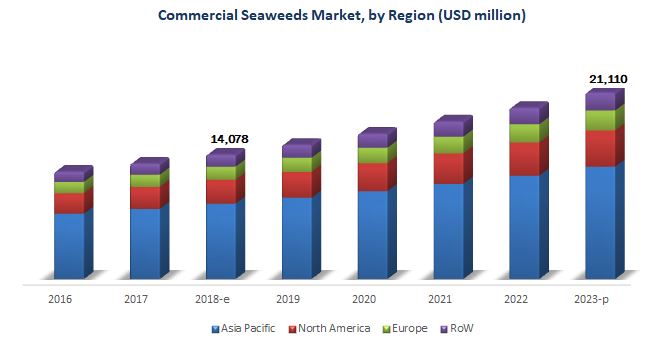 Download PDF Brochure: https://www.marketsandmarkets.com/pdfdownloadNew.asp?id=152763701
Increase in seaweed harvesting to cater to the growing demand for seaweeds & seaweed-based products
Seaweed harvesting has been an ancient activity in Europe, wherein two main uses were identified: human consumption and agriculture (fertilizers for the latter). The development of the seaweed industry has significantly changed the functioning of the coastal population in Europe. Since then, the seaweeds industry has witnessed strong growth in European countries such as Norway, France, and Ireland. European farmers have adopted two main harvesting techniques, namely, mechanical harvesting and manual harvesting. In these countries, most of the seaweeds are used in agriculture and horticulture. Some species of seaweeds are used for human consumption due to their rich protein content and nutritional properties. These uses of seaweeds have resulted in an increasing demand for edible seaweeds among European consumers.
Along with the growing demand for seaweeds in European countries, North America is also experiencing an increase in harvesting and usage of seaweeds, mainly for the development of industrial applications. In North America, seaweeds are largely used in feed and industrial applications such as paper, nutraceutical, pharmaceutical, and cosmetics & personal care. The usage of seaweeds to produce hydrocolloids such as alginates, agar, and carrageenan is also high in this region. Moreover, the usage of seaweeds in the bio-fuel industry is also gaining attention due to various advantages associated with it, such as fuel security, emission savings, and rural economic development. This has further enhanced the growth of the commercial seaweeds market.
Excessive use of seaweed products
The consumption of seaweed extracts and seaweed packaged products harvested from aquaculture has certain harmful effects due to the presence of toxic minerals, which lead to health concerns, globally. Seaweed products that are sold commercially are in the form of partially dried seaweeds that are packaged in plastic containers as well as sold in the form of tablets and powder. Seaweeds harvested from wild stock have safety concerns associated due to the presence of heavy metal residues such as arsenic and iodine. Higher intake of these heavy metals present in seaweeds can lead to medical complications, such as cancer, brain damage, gastrointestinal problems, and kidney diseases.
Increase in technological development to cultivate seaweed would reduce labor engagement
The cultivation of seaweeds is majorly undertaken in the Asia Pacific region. After cultivation, the seaweeds are dried and exported to developed regions such as Europe and North America for further innovations and to derive extracts to be used in end-user industries. Thus, due to the lack in technology in the Asia Pacific region, labor engagement is higher, which adds to the operational costs. Thus, to reduce labor engagement, the implementation of new technologies, such as cultivating detached plants growth in tanks on land, can be introduced in various Asian countries.
Speak to Analyst: https://www.marketsandmarkets.com/speaktoanalystNew.asp?id=152763701
Asia Pacific is projected to dominate the regional commercial seaweeds market through 2023
Due to the increasing presence of tropical rainforests in the Asia Pacific, various species of seaweeds are found in this region. With a wide variety of seaweed species in this region and increasing production of the seaweed-based products, Asia Pacific remains the largest supplier of seaweeds to both domestic and export markets. In addition, the bulk of seaweeds in this region is obtained from culturing (harvested through aquaculture). The key seaweed types that are in demand in this region include nori, kombu, and wakame. They are increasingly used in food preparations in the Chinese and Japanese diets. As seaweeds are nutrition-dense and are increasingly used as an ingredient in processed food, consumers prefer spending on processed food for healthy diets. The demand for clean labels and organic products is on the rise, which is also leading to the increasing use of seaweeds as organic fertilizers in the agriculture industry. The other industrial applications of seaweeds in the region include pharmaceuticals, agriculture, cosmetics, biofuel, and feed additives. These factors are projected to fuel the growth of the commercial seaweeds market in the Asia Pacific. Of the various countries in the Asia Pacific, China and Indonesia are projected to account for a major share of the market.
This report studies the marketing and development strategies along with the product portfolios of leading companies such Cargill (US), DowDuPont (US), Roullier Group (France), COMPO EXPERT (Germany), Biostadt India (India), CP Kelco (US), Acadian Seaplants (Canada), Gelymar (Chile), CEAMSA (Spain), and Algaia (France).
Media Contact
Company Name: MarketsandMarkets
Contact Person: Mr. Shelly Singh
Email: Send Email
Phone: 1-888-600-6441
Address:630 Dundee Road Suite 430
City: Northbrook
State: IL
Country: United States
Website: https://www.marketsandmarkets.com/Market-Reports/commercial-seaweed-market-152763701.html