Insoluble Dietary Fibers Market Size, Share, Industry Analysis, Growth, Trends, and Forecast – 2022
The insoluble dietary fiber market is projected to grow at a CAGR of 9.2% from 2017 to 2022, to reach USD 2.66 billion by 2022.
The report "Insoluble Dietary Fibers Market by Type (Cellulose, Hemicellulose, Chitin & Chitosan, Lignin, Fiber/Bran, and Resistant Starch), Source (Cereals & Grains, Legumes, and Fruits & Vegetables), Application, and Region – Global Forecast to 2022″, The insoluble dietary fibers market is projected to reach a value of USD 2.66 Billion by 2022, at a CAGR of 9.2% from 2017. The market is driven by factors such as increase in demand for functional foods and initiatives undertaken by the government and regulatory bodies to increase consumer awareness related to food & beverages supplements.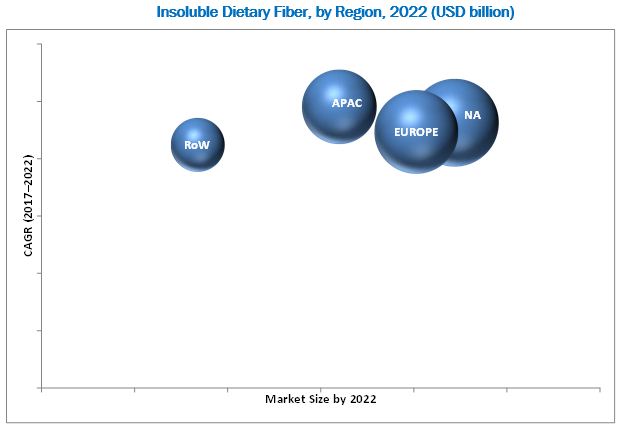 Download PDF Brochure: https://www.marketsandmarkets.com/pdfdownloadNew.asp?id=174505495
Growth in Demand for Functional Foods
Changes in lifestyles and lack of time have led to high consumption of functional foods in countries around the world, especially in Asia. With growth in workload, busy lifestyles, and increase in the number of working women (considering women play a predominant role in preparing meals in households), the time and means to intake healthy food have reduced. This has resulted in the growing demand for products that offer balanced nutrition. Thus, the consumer demand for functional foods, nutraceuticals, and supplements has been increasing. As insoluble dietary fibers form an essential ingredient in functional food products, their market is also increasing.
With changing consumer lifestyles, there is a need for intake of extra fiber. Insoluble dietary fiber content varies in different types of foods. Several key players such as Archer Daniels Midland Company (U.S.), Cargill (U.S.), and E. I. du Pont de Nemours and Company (U.S.), offer a range of insoluble dietary fibers obtained from different sources including wheat, oats, corn, peas, potato, legumes, and rice for their application in food, feed, and pharmaceutical products. Further, the products offered by these companies are also in accordance with consumer needs. This is projected to drive the market for insoluble dietary fibers.
Cost-Intensiveness
Dietary fibers cannot be digested by humans due to lack of necessary enzymes in the digestive tract. More specifically, dietary fibers are resistant to hydrolysis. Since dietary fibers cannot be digested, they pass through the body almost unchanged and cannot be used as an energy source. These properties of fibers are useful in the physiological functions that they perform. However, the same characteristics become a hindrance while incorporating fibers as ingredients in food products. Blending of fibers into the product is of high importance for the chemical stability of the product across range of temperatures, and requires time. However, with taking up the volume of the overall product and not contributing to the energy, these fibers become a cost-intensive ingredient. Further, there would be an economic impact on the manufacturer due to the high price of dietary fibers and also the difference in the technology involved in obtaining them.
The cereals & grains segment accounted for the largest share in the insoluble dietary fibers market in 2016
On the basis of source, the cereals & grains segment accounted for the largest share in the insoluble dietary fibers market in 2016. This is because, the availability of cereals and grains as raw materials for producing dietary fibers is higher as compared to other sources such as fruits and seeds, and the yield of insoluble dietary fibers from grains & cereals such as wheat, rice, oat bran, and corn is high.
Make an Inquiry: https://www.marketsandmarkets.com/Enquiry_Before_BuyingNew.asp?id=174505495
North America dominated the insoluble dietary fibers market in 2016
The North American region was the largest market for insoluble dietary fibers market in 2016. This can be attributed to the increase in demand for various dietary fiber fortified products in the U.S. and Canada. The consumer awareness related to dietary supplement consumption in this region is very high, and can be attributed as a reason for its largest market share in this market.
This report includes a study of marketing and development strategies, along with the product portfolios of the leading companies. It includes profiles of leading companies such as Cargill (U.S.), Roquette Frères (France), E. I. du Pont de Nemours and Company (U.S.), Ingredion Incorporated (U.S.), SunOpta, Inc. (Canada), Interfiber (Poland), Solvaira Specialties (U.S.), Unipektin Ingredients AG (Switzerland), AdvoCare International, L.P. (U.S.), J. Rettenmaier & Söhne GmbH Co. KG (Germany), Grain Processing Corporation (U.S.), and Barndad Nutrition (U.S.).
Media Contact
Company Name: MarketsandMarkets
Contact Person: Mr. Shelly Singh
Email: Send Email
Phone: 1-888-600-6441
Address:630 Dundee Road Suite 430
City: Northbrook
State: IL
Country: United States
Website: https://www.marketsandmarkets.com/Market-Reports/insoluble-dietary-fiber-market-174505495.html