1st Annual Marionette Publishing Authors & Arts Award Presentation
6th Annual Kingdom Business & Ministry Expo Hosted by James and LaTonya Johnson: CEO Be-Jeweled Vessel with Co-host by Dr. Doniel Ervin: CEO of Marionette Publishing
HOUSTON, TX – Dr. Doniel Ervin, CEO of Marionette Publishing is excited to introduce the "1st Annual Marionette Publishing Authors & Arts Award" and announce the 2019 nominees to the public on December 8, 2019. In celebrating the creativity of self-published authors and the portrait artist committee, Marionette Publishing founded by Dr. Ervin in 2016, is a leading provider of professional book publishing and entrepreneurship consultant.
Kingdom Business & Ministry Expo
The Kingdom Business & Ministry Expo hosted by Be-Jeweled Vessels. This worthwhile event recognizes local businesses and ministries across the greater Houston area that has gone above and beyond in supporting the Houston economy. Founded by James and LaTonya Johnson, Be-Jeweled Vessel has served as a local small business since 2013. It provides quality retail merchandise services and other inspiring spiritual services at a reasonable cost.
Marionette Publishing (MP)™ offers all inclusive publishing package that equipped individuals to transition thoughts of words to a manuscript, to a published author. Truly, dreams achieved. As a subsidiary company of Ervin Management Group, a wide range of services and works with extensive network of capable partners to deliver cost-effective business solutions including faith coaching strategies, business management, global missions, taxation, and entrepreneurship." One of the major collaboration networks is the annual Kingdom Business & Ministry Expo that allows Dr. Doniel to empower businesses solution throughout the community.
Meanwhile, the 2019 Marionette Publishing Authors & Arts Award nominees are:

Self-Published Authors Award Nominees Categories
1. Dr. Shelia "Sugar" Trask: Shattered Mirror – Volume I
Spiritual Recovery & Deliverance Book of the Year
2. Bianca Johnson: "I'm G.O.O.D.": (Getting Over Obstacles Daily)
Christian Faith Testimonial Book of the Year
3. LaTonya Johnson: From A Worshipper's Perspective
Praise & Worship E-Book of Year
4. Teniecka Drake: The Gift of Finding God's Love
Women Empowerment Book of the Year
5. Dr. Ben David Richardson II: Life Before Adam
Bible Inspiration Audio Story Book of the year
6. Joshua "J'Gear" Richardson: da crew
Youth Coloring Book of the Year
7. Hope Encalade: Room 312: Kept By Design, When Faith and Fear Cannot Be Co-Pilots
Christian Faith on (Health, Mental, and Spiritual) Book of the Year
Special Honorable Awards
8. Marvin Cloud: Lifetime Achievement Award of the Year
9. Labertha McCormick: Hurry! Hurry My Children
Life Beyond 50 Book of the Year
Portrait Artist Awards

10. LaTisha Salsman: Youth Portrait Artist of the Year
11. Ransom McCormick: Male Portrait Artist of the Year
12. Nadera McCormick: Female Portrait Artist of the Year
About both companies mission & vision
Meanwhile, Be-Jeweled Vessels and Marionette Publishing both share humanitarian efforts and economic growth within the Harris county community of Houston, TX. In supporting various faith-based organization within the surrounding areas both businesses have collaborated each visions in service to empower those desire entrepreneurship, provided basic life skill application of the children and youth, are advocates for senior citizens, feed the homeless, assist in mental health, domestic violence awareness for both men and women as well as hosted speaking engagements, seminars to support scholarships to deserving students seeking higher education.
About the CEO's
Dr. Doniel Ervin, CEO
She is an Author, Missionary, and Notary, Radio Host, Pastor of Redeemed By The Blood Ministry International and Entrepreneur in the field of business administration, broadcasting, management, and tax services. She's commissioned to serve God's children, youth and widows locally and in Mwere village in Kampala, Uganda: Africa. Your financial and spiritual support always welcome towards the kingdom of God.
For more information, visit her 501c3 Faith-based website at www.redeembytheblood.org to learn more about her ministry and business services.
Contact Information
For more information about Marionette Publishing, contact them through any of the following contact details:
Cell: 832.573.3095
Business: 713.808.9168
Fax: 877.289.2390
Book publishing Email: [email protected] *
Business Consultant Email: [email protected]
* For Book Review/Book Signing and speaking request services, send request to the above email.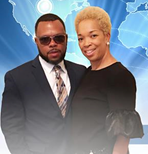 James & LaTonya Johnson, CEO
BE-JEWELED VESSEL'S story begins in 2013. James & LaTonya Johnson applied their vision of encouraging God's creation; mind, body, and soul by providing customers with quality retail merchandise and other inspiring services at a reasonable cost. The name, 'BE-JEWELED VESSELS' came about out of a casual conversation. One particular night, while at bible study, the Holy Spirit presented a bible before me with the scripture Malachi 3:17,18 which confirmed the company's motto – catering to God's special treasures. Christ is our motive! We use the tools given in the earth as a vehicle to minister & create an atmosphere appropriate for the Spirit of God to dwell. We hope that you will enjoy our services.

Contact Information
LaTonya Johnson of Be-Jeweled Vessels *
(281) 245-7949
[email protected] *
website: https://www.be-jeweledvessels.com
Media Contact
Company Name: Marionette Publishing
Contact Person: Dr. Doniel Ervin
Email: Send Email
Phone: 8325733095
Address:Tuscany Grand ballroom 4820 Techniplex Dr.
City: Stafford
Country: United States
Website: www.linktr.ee/yaldoniel