Rhythmic Yoga Academy's Aesthetic Science of Yoga & Yoga Teacher Trainings
Yoga is being practiced by many people all around the world. More than 2000 years ago great yogis such as Patanjali, Thirumoolar etc contributed to yoga in a maximum possible ways. They have written their yogic experiences through books, spiritual saying as well as sutras which can be understood by everyone and get motivated to practice yoga everyday and lead a healthy yogic lifestyle. And that is what until now everyone all around the world are able to understand what is yoga and are able to practice yoga in the correct way.
The word "Yoga" comes from Sanskrit word "Yuj". It means "Connect" or "Joining" or "Getting Connected". Yoga has everything which helps you to get connected with your body, mind and soul to practice yoga in your life. Yoga helps you to be a gentleman, lead a healthy lifestyle and to stay away from dieaceses all the time.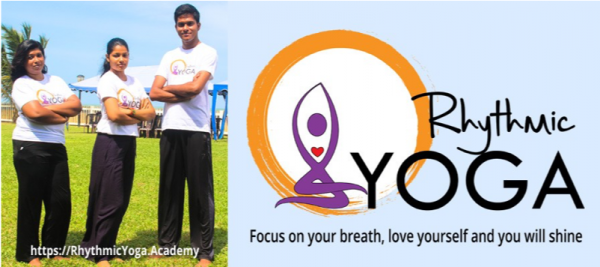 For you to learn more about Yoga and the fundarmentals, Rhythmic Yoga Academy is here, created by two yogis from Sri Lanka who are Yogini. Donisha Mylendran (The Founder & Chief Yoga Instructor) a Yoga Instructor Course & CYA International graduate from S.V.Y.A.S.A Yoga University in Bangalore, India; Yogi. Amaresh Rajaratnam (The Co-Founder & Yoga Teacher) a 200 hours Vinyasa Hatha Yoga Teacher Training course graduate from Babaji Institute of Kriya Yoga, Sri Lanka; later Yogini. Deonee Ratnam (Program Coordinater). The academy was first founded in 2016 and currently works on variety of workshops, trainings and yoga classes to educate and make everyone to lead a healthy yogic lifestyle. The academy also recently conducted a Free Kid's Yoga Camp in collaburation with Jagravo Fayares (A travel & tourism company) in Sri Lanka as an awareness program to help children continue practicing yoga everyday.
Rhythmic Yoga Academy made a collaburation with a spiritual yoga institution by Guru. Atmaridananda Shankarananda (Bsc. Yoga in India) which is Babaji Institute of Kriya Yoga in Sri Lanka and currently works on providing a highly demanding 200 hours Yoga Teacher Training program in Sri Lanka. If you are interested to learn yoga and the correct way of teaching yoga with the spiritual practice, you can join and learn. More information about the course that RYA's Teacher Training can be found here.
Media Contact
Company Name: Rhythmic Yoga Academy
Contact Person: Mr. Amaresh Rajaratnam
Email: Send Email
Country: Sri Lanka
Website: https://rhythmicyoga.academy/