Trustverse Is Listing On BiKi Exchange Including Multiple Promotions For Users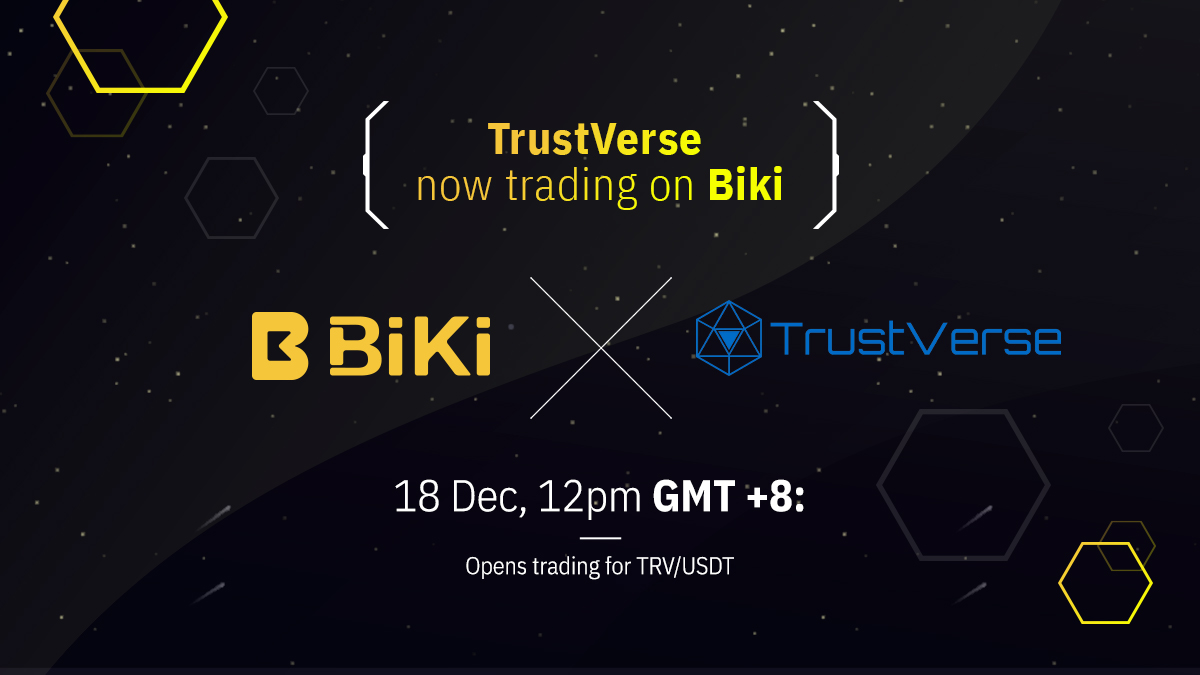 Our partner exchange BiKi Exchange has just launched a new listing promotion for Trustverse and we want to invite you to participate!
Trustverse is giving away more than 700,000 TRV tokens to users on BiKi Exchange to celebrate their upcoming listing on December 18 12.00 PM UTC+8.
Simply follow the steps on Telegram for a chance to receive a share of these rewards.
Official BiKi Exchange rewards bot: t.me/Trustverse_Rewards_Listing_Bot

Rules and Rewards:
To be eligible for the promotion, users must be signed up for BiKi exchange and complete all the steps outlined, including making a deposit of at least 1 USD worth of any cryptocurrency into the account. The first 1000 users who complete the Telegram action will receive a share of a 650,000 TRV reward.
Those who complete the steps outside of the first 1000 will have the chance to win a part of a random reward pool of 33,333 TRV.
Another 120,000 TRV is also being given away to the top referrers who refer the most users go on to complete all the steps on Telegram.
The distribution date for the rewards will be announced after the competition has ended.
Hope this is useful information to you and good luck with this promotion!
About Trustverse: The Future of Digital Finance & The University of Trust
TrustVerse began as a blockchain based asset management service dedicated to providing a stable and highly reliable currency based financial solutions by eliminating the volatility of the cryptocurrency.
We believe that the blockchain technology, a transformative platform, has the potential to universally reshape the business transactions across nearly every industry in the global economy.
We focus on building trust mechanism (smart ledger) and finance AI building blocks for the de-fi—decentralized finance.
We offer multiple services within the industry and areas of decentralized digital finance including multiple-data sets to capitalize on digital asset's manipulated stance, smart contract-based payment, and bidding and transaction platforms for high-value asset.
These services will be the future of digital finance as the financial service industry moves from mere exploration of the blockchain technology to its real-world applications.
All our DApps service will require fee payment on TRV token, thus raising its demand. TrustVerse will receive the tokens and will place them back in circulation in our associated exchanges while using them for fostering the development of our ecosystem.
About BiKi Exchange
Headquartered in Singapore, BiKi.com is a global cryptocurrency exchange ranked Top 20 on CoinMarketCap.
BiKi.com provides a digital assets platform for trading more than 150 cryptocurrencies and 280 trading pairs.
BiKi.com is focused on providing the safest, most stable and most effective cryptocurrency trading platform.
100% of the transaction fees are used in buyback and burning of platform token, BIKI. Since its official opening in August 2018, BiKi.com is considered one of the fastest-growing cryptocurrency exchanges in the world with an accumulated 2 million registered users, 130,000 daily active users, over 2,000 community partners and 200,000 community members.
BiKi.com has received investments from Huobi co-founder Du Jun, Genesis Capital Zhu Huai Yang, FBG Capital, ChainUP and others totaling approximately 10 million USD.
Media Contact
Company Name: CoinAds Ltd.
Contact Person: Media Relations
Email: Send Email
Phone: 0854123365
Country: United Arab Emirates
Website: https://coinads.pro/