"Hap: The Prize Winning Horse," An Inspirational Story Of Triumph Over Obstacles And Tragedy, Now Available To Readers Worldwide
"Hap: The Prize Winning Horse," the latest work by author and veteran Horace Crenshaw, Jr., is now available on Amazon to readers worldwide. An inspirational story told beautifully and vividly, readers learn many lessons crucial to perseverance and triumph over setbacks.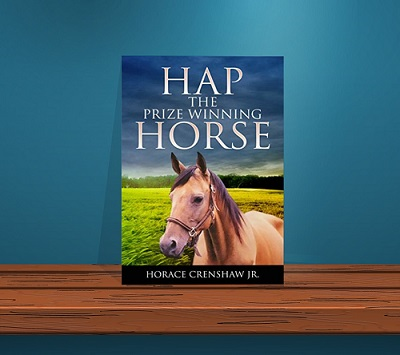 A positive story of triumph, "Hap: The Prize Winning Horse" tells the story of Hap, a young horse, who has aspirations of becoming a great American racehorse. But because his owners lack resources to properly train or race him, Hap faces obstacles, yet continues to dream. With faith, determination, hope, perseverance, and positivity, Hap pursues his big dream head-on and seeks to make it a reality. Throughout this beautifully written tale, enter the mind of Hap as he pursues a lifelong dream of becoming a great American racehorse.
With central themes of positivity, passion, and triumph, "Hap: The Prize Winning Horse" proves an inspirational tale for audiences worldwide. A 42-page story, each page showcases the power of heart, perseverance, and dedication, leaving readers inspired and captivated by Hap's journey and rooting for prolonged his success in racing.
The feel-good, heart-warming story, passionately told by Crenshaw in a way that inspires and ignites the imaginations of readers, is now available to readers worldwide. "Hap: The Prize Winning Horse" retails in Kindle format for $2.99, or for free via Amazon's Kindle Unlimited Program, with paperback copies retailing for $7.00 with Amazon Prime eligible shipping.
To learn more about this inspirational and heart-warming story, or to purchase a digital or paperback copy, please visit "Hap: The Prize Winning Horse" on Amazon here.
About The Author
Horace Crenshaw, Jr. is an accomplished writer, storyteller, and American veteran. An active Lieutenant Colonel in the U.S. Army Reserves, Crenshaw's service as a Commander during Operation Iraqi Freedom has been chronicled in Marquis' Who's Who in America, Who's Who in the World, and 2007 Who's Who of Emerging Leaders (First Edition). Crenshaw has received a B.S. in Political Science from Tuskegee University, an M.A. in International Relations from Webster University, and a Master Certificate in Project Management from The George Washington University. He currently resides with his wife in Stafford, Virginia, and has one daughter.
Media Contact
Company Name: Blowing Sandstorm Consulting
Contact Person: Horace Crenshaw, Jr.
Email: [email protected]
City: Stafford
State: VA
Country: United States
Website: amazon.com/dp/B0817H32HH