Deltec Bank, Bahamas says AI Is Transforming Banking with Predictive Analysis and Autonomous Learning
Deltec Bank – The ultimate goal for any technology for investing is the generation of "alpha" or beating the market.
Artificial Intelligence (AI) is a field that is changing daily life for all of us. This includes the finance and banking sector. In the coming years, many aspects of investing will be altered by this new technology and to understand these changes will allow investors to best harness it to reduce risk in the future. According to the Boston Consulting Group, those that neglect to do so "will fall even further behind the front-runners."
As an overview Artificial Intelligence is a suite of four general technologies:
Machine Learning – programs that allow a computer to improve performance without explicit instructions
Deep Learning – computer defined algorithms created from Neural Networks that attempt to maximize outcomes
Speech Recognition/Natural Language Processing – computers that can understand and generate human understood speech
Visual Recognition – computers that can understand and analyze pictures and video
According to Deltec Bank – Bahamas, "These technologies are separately or in combination harnessed with adaptive predictive power and some degree of autonomous learning, to • Recognize patterns, • Anticipate future events • Create good rules • Make good decisions • Communicate with other people
Because of these capabilities firms and that are adopting AI are able to deliver new kinds of value and operating models. A recent survey by Deloitte found that only 32% of financial service companies were developing AI programs, and of those that were, the greatest impact was in:
65% Customer service
52% Back-office operations
42% of Financial advisors
31% Fraud detection
29% Risk management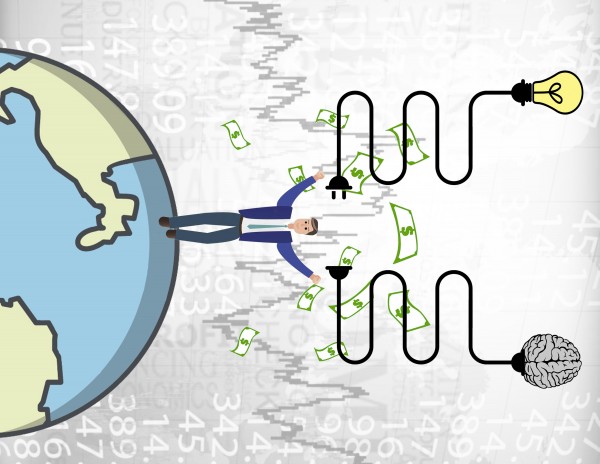 Customer Service
With customers being the key driver of the banking industry, customer service is at the forefront of the business. "AI can be used to derive a better understanding of customer's needs and spending patterns, which will help banks customize products and services by adding personalized features", says Deltec Bank, Bahamas. The one issue that should be considered when using AI to enhance customer service is that there is also a fear of reduced customer loyalty due to less customer contact and the lack of essence of "human touch." This balance must be maintained.
Back Office Operations
Banks like all businesses have to make a profit to survive, and today, banks face significant pressure on their margins. Regulators and their persistent focus on transparency make several businesses unprofitable by increasing back-office costs. AI technologies enable banks to bring more efficiency to their operations and manage these costs. One study found that banks that invest in AI could see their revenue increase by 34% by 2022. Intelligent Process Automation (IPA) is immensely helpful here. Parsing of financial deals is just a matter of a few seconds, thanks to AI. They can also help manage contracts and act as brokers, simultaneously taking over routine tasks, thus improving productivity and efficiency. As with any change a bank must consider pushback by its workforce to any AI initiatives it starts.
Financial Advisors
The ultimate goal for any technology for investing is the generation of "alpha" or beating the market. According to Deloitte Consulting's report on Artificial Intelligence, "The rate of data creation is growing exponentially, and firms that transform data into fuel for investment insights will improve their opportunity for alpha." But a report from Allianz Global investors warns "Fund managers who build strategies around an AI 'alpha engine' should be wary about the actual robustness of the signal, as well as its staying power."
According to Deloitte's Principal Casey Kirk "asset managers with profitable growth increased technology spending 7% annually, focusing that investment in proprietary technology, compared to only a 2% annual increase for the average firm." In most cases, money follows success so the winners are betting that data is the right place to be.
Fraud Detection and Risk Management
For years banks have been using Machine Learning and Neural Networks successfully to identify frauds, fraudulent transactions, and simultaneously detect anti-money laundering patterns on a real-time basis. This allows the bank to notify customers immediately to prevent further loss. Suspicious data patterns can be identified and help banks decide if the actual source of money is legal or illegal, helping with the AML process. Citibank has invested over $11 million in a new anti-money laundering structure that is using machine learning and big data. False positives for fraud are always going to be an issue and how these are dealt with must be considered.
Data Required
Even with all the benefits, there are limitations to what AI can do. One surprising limit is the lack of enough data to make Deep Learning out of the box decisions. According to Market Watch, "financial markets, surprisingly, don't produce enough data to get the most out of AI and machine learning: AI functions best on billions of data points rather than millions, but three decades of daily share-price data for the benchmark S&P 500 would only produce fewer than 4 million data points."
Therefore the adoption of AI in investment management is now being used to augment the intelligence of the human workforce, and facilitating the development of next-generation capabilities, this can be best seen with the results of the Allianz neural network study "we 'trained' a neural network to augment a traditional momentum investing strategy, by feeding it five years of data on Russell 3000 stocks in order to identify patterns. The resulting AI-enhanced strategy produced returns that closely tracked a traditional momentum strategy. However, it generated a significantly superior information ratio, a measure of the risk-adjusted return of a portfolio: The experiment produced an information ratio of 2.6 versus 1.25 for a traditional strategy."
Opacity
Another issue that is a struggle for all of the financial service industry is the opacity of Deep Learning Neural Networks. AI solutions learn and evolve over time and they contain several hidden decision layers that make auditing and tracing difficult. "While deep learning models and neural networks in AI have proven over time to be perfect than human decision-making[sic], they are often not transparent in terms of revealing how they generated such conclusions." according to Fintech News.
Trusting that the computer model is making a correct decision when the "how" of that decision is not understood, it may be difficult for customers to accept, and the financial industry may also be regulated to require such justifications. The Federal Reserve has published guidance requiring that banks should be able to validate and assess the decision-making of their analytics tools.
Conclusion
There are several long term benefits to a financial institution developing a robust AI program. Reducing costs while improving customer service and helping make correct decisions in fraud prevention, even faster is crucial for institutions to compete. As AI becomes more embedded into a bank's most critical operations, particularly in ways that impact the financial stability both of institutions and their customers, it could expose banks to new hazards. These benefits and costs all need to be considered when developing a bank's AI future.
Disclaimer: The author of this text, Robin Trehan, has an undergraduate degree in Economics, Masters in international business and finance and an MBA in electronic business. Trehan is Senior VP at Deltec International www.deltecbank.com. The views, thoughts, and opinions expressed in this text are solely the views of the author, and not necessarily reflecting the views of Deltec International Group, its subsidiaries and/or employees.
About Deltec Bank
Headquartered in The Bahamas, Deltec is an independent financial services group that delivers bespoke solutions to meet clients' unique needs. The Deltec group of companies includes Deltec Bank & Trust Limited, Deltec Fund Services Limited, and Deltec Investment Advisers Limited, Deltec Securities Ltd. and Long Cay Captive Management.
Media Contact
Company Name: Deltec International Group
Contact Person: Media Manager
Email: Send Email
Phone: 242 302 4100
Country: Bahamas
Website: https://www.deltecbank.com/