Advanced Liver Cancer Epidemiology Forecast to 2030

DelveInsight has launched a new report on Advanced Liver Cancer Epidemiology Forecast to 2030
DelveInsight's Advanced Liver Cancer Epidemiology Forecast to 2030 report delivers an in-depth understanding of the disease, historical and forecasted Advanced Liver Cancer epidemiology in the 7MM, i.e., the United States, EU5 (Germany, Spain, Italy, France, and the United Kingdom), and Japan.
Advanced Liver Cancer is a stage IV Liver Cancer in which the cancer has spread to nearby lymph nodes and may have grown into nearby blood vessels or organs. It does not often metastasize but when it does, it is most likely to spread to the lungs and bones. It is further categorized into IVA and IVB stages. In stage IVA the cancer have grown into blood vessels or the organs around the liver and has spread to lymph nodes but not to other parts of the body. While in stage IVB the cancer spread to another part of the body such as the lungs or bones.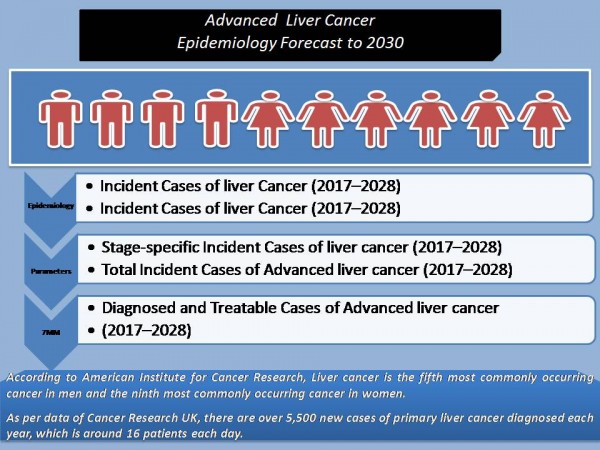 Request for free sample page
Epidemiology
The Advanced Liver Cancer epidemiology division provides insights about historical and current patient pool and forecasted trend for every seven major countries. The Advanced Liver Cancer epidemiology data are studied through all possible division to give a better understanding of the Disease scenario in 7MM. The Advanced Liver Cancer epidemiology segment covers the epidemiology data in the US, EU5 countries (Germany, Spain, Italy, France, and the UK), and Japan from 2017 to 2030. It also helps to recognize the causes of current and forecasted trends by exploring numerous studies, survey reports and views of key opinion leaders.
Report key facts:-
1. According to Japanese Journal of Clinical Oncology, the proportion of early-stage Hepatocellular Carcinoma (HCC) is about 65%, whereas only 5% patients are present with advanced-stage in Japan.
2. According to Cancer Research UK, Incidence rates are significantly higher in males than females in a number of (mainly older) age groups .
3. According to Centers for Disease Control and Prevention, estimates that, about 33,000 people get liver cancer, and about 26,000 people die from the disease each year in the United States
Some of key major companies are working on this disease which are given below:-
1. Ono Pharmaceutical Co. Ltd
2. Benhealth Biopharmaceutical Co., Ltd
3. Millennium Pharmaceutical Co. Ltd
Name of drugs covered which are given below:-
1. Nivolumab
2. CIK and CD3-MUC1
3. MLN0128
Table of content
1. Key Insights
2. Executive Summary of Advanced Liver Cancer
3. Advanced Liver Cancer: Disease Background and Overview
4. Patient Journey
5. Epidemiology and Patient Population
6. Treatment Algorithm, Current Treatment, and Medical Practices
6.1. Advanced Liver Cancer Treatment and Management
6.2. Advanced Liver Cancer Treatment Algorithm
7. KOL Views
8. Unmet Needs
9. Appendix
9.1. Bibliography
9.2. Report Methodology
10. DelveInsight Capabilities
11. Disclaimer
12. About DelveInsight
Why should you buy this report?
The Advanced Liver Cancer Epidemiology report will allow the user to –
Develop business strategies by understanding the trends shaping and driving the global Advanced Liver Cancer market
Quantify patient populations in the global Advanced Liver Cancer market to improve product design, pricing, and launch plans
Organize sales and marketing efforts by identifying the age groups and sex that present the best opportunities for Advanced Liver Cancer therapeutics in each of the markets covered
Understand the magnitude of Advanced Liver Cancer population by its epidemiology
The Advanced Liver Cancer Epidemiology Model developed by DelveInsight is easy to navigate, interactive with dashboards, and epidemiology based with transparent and consistent methodologies. Moreover, the model supports data presented in the report and showcases disease trends over 11-year forecast period using reputable sources
Related Reports:-
1. Advanced Heart Failure – Pipeline Insights, 2020
2. Advanced liver cancer – Pipeline Insights, 2020
Media Contact
Company Name: DelveInsight Business Research LLP
Contact Person: Yash Bhardwaj
Email: Send Email
Phone: +919650213330
Address:304 S. Jones Blvd #2432
City: Las Vegas
State: NV
Country: United States
Website: https://www.delveinsight.com/