Essential Worker Loses Job after Employer Termed Contract During Self Quarantine
Having lost everything, the former employee who was let go thanks to unjust 'At-Will' laws has begun a fundraiser and for Employee Protection Amendments.
New Orleans, LA, USA – June 22, 2020 – Thanks to the coronavirus outbreak, millions of Americans have lost employment following company layoffs, furloughs, and contracts ending unexpectedly. In fact, most workers have been entirely laid off with no protections under 'At-Will' clauses without justification during a global pandemic. One former worker (who would like to remain anonymous) has decided to start a petition for 'Employee Protection Amendments' to put an end to this injustice.
Jane Doe has been left homeless due to clauses in employment contracts that do not protect workers. Without laws to protect all employees, an employer can terminate a contract or an agreement, "At-Will," leaving the employee out of work during a pandemic with no recourse or protection. This has been the fate of hundreds of hard-working employees and a host of other former employees, especially those in At-Will states. Montana is the only state currently in the USA that has abolished this doctrine.
Having lost everything after the layoff and being unemployed, all of Jane Doe's belongings were auctioned at a storage facility despite her efforts to work with the owners. With the future looking bleak, Doe is looking to raise funds to help her find safe housing and to advocate for others who are also being affected by At-Will clauses in employment contracts and other discriminatory practices that affect workers with pre-existing medical conditions.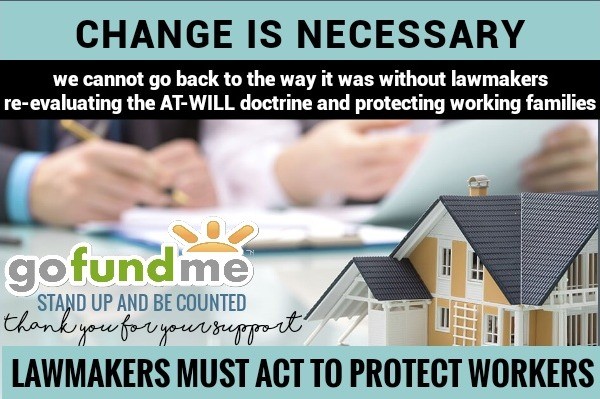 In a statement, she said, "I was let go during the coronavirus outbreak, after developing symptoms. During the time, a lot of us were not only turned away to get tested but also told to quarantine. During quarantine as an essential worker on contract, my contract was terminated, and there has been no protection. Right now, I am homeless after devastating losses and need aid to get a new start. I am hoping this petition promotes change to protect hard-working employees across our beautiful country."
She continues, "I know several people, including myself, who have been hard hit by employers' dismissals without cause. I have hope for my future and know with help from others, I will once again be able to secure safe, affordable housing and find work within a company that offers stability and an EEO (Equal Employment Opportunity) structure that does not discriminate those with pre-existing health conditions."
To make donations and contributions, go online to http://gf.me/u/xzwctq.
Media Contact
Company Name: Absolute Author Publishing House
Contact Person: Dr. Melissa Caudle
Email: Send Email
Phone: 504.467.7181
Address:1123 Williams Blvd
City: Kenner
State: LA
Country: United States
Website: www.absoluteauthor.com