Cutting edge men's skincare company creates innovative scientifically formulated skincare product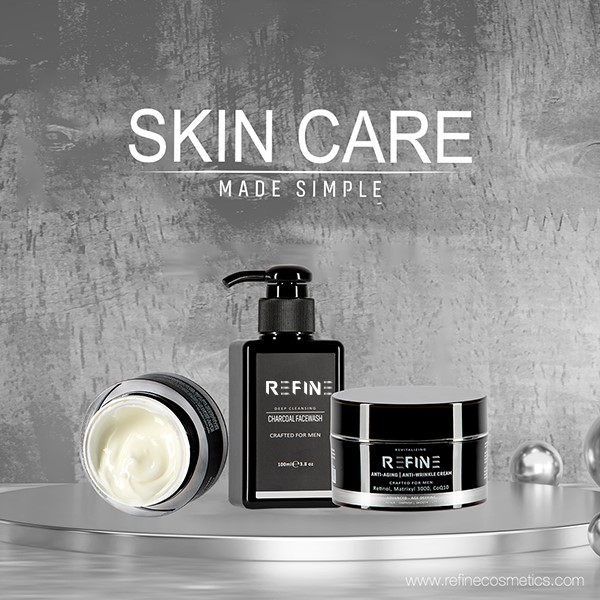 Costa Mesa, California – September 18, 2020 – California-based REFINE cosmetics is a leading innovator in the fast-growing field of men's skincare. Traditionally a market dominated by major brands, REFINE has focused its research and development on male skincare and creating a product line which addresses men's specific skincare needs at affordable prices.
REFINE's newest product innovation is an anti-aging cream that combines all three powerful anti-aging and anti-wrinkle ingredients, Retinol, Matrixyl 3000 and CoQ10. The product is guaranteed to yield results and reveal younger, firmer and more youthful looking skin.
"No other men's skincare product on the market houses all three of these powerful anti-aging ingredients," explains Bob Rai, founder of REFINE Cosmetics. "To raise the bar even further, our unique blend includes specific hydrating agents and vitamins such as: sodium hyaluronate, green tea extract, shea butter, vitamin E, aloe vera juice, rose hip oil and glycerin. The product is effective as well as being easy to use."
The high-performance triple formula works from the inside out by promoting the production of collagen and elastin in order to reduce fine lines and wrinkles, diminish crow's feet, fade dark spots, reduce under-eye bags, hydrate, firm and smooth skin.
Designed and crafted by chemists and medical professionals, REFINE took the fluff out of skincare and focused on the necessities to create the ultimate one-two punch for men's skincare. By combining their charcoal face wash with the powerful triple-action anti-aging cream, men everywhere can now detoxify to reduce acne, and feed their skin with powerful antioxidants for hydration and age-defense.
In today's society, skincare products for men have become mainstream. The push to sell more and more products has meant that some skincare routines have as many as five steps. REFINE understands that men want younger looking, hydrated skin but that they lead busy lives and don't have time to waste on complex, ineffective skincare. With just two products, REFINE has re-defined men's skincare by creating simple, effective and luxurious products at drug store pricing along with a satisfaction guarantee.
"I was driven by the belief that every man deserves a high-end product that had the best high-end ingredients without the high-end price tag," explains Rai. "My goal was to change the way men take care of their skin with a product that worked extremely well and produces visible results."
Cruelty free, gluten free, vegan, and paraben free, REFINE's science-based products are safe for all skin types and are available for purchase at www.refineskincaremen.com
To connect with REFINE, follow RefineCosmeticsMen on Facebook, @flawlessskinmen on Twitter and @refineskinmen on Instagram.
About Refine
Envisioned and designed by chemist and medical professionals, REFINE defines the craft of men's skincare. Launched July 2020 after years of development, the vision was to find a skincare product that was a one-stop-shop, single step product. Upon partnering with a world-renowned chemist, that vision began to come to life by stripping skincare down to the basics and focusing on what works. In doing that, REFINE was born and crafted the best one-two punch on the market for men's skincare. Through proof of concept, innovation and dedication to results, REFINE is redefining the way we view men's skincare by offering luxury skincare at drug store prices.

For more information or for press inquiries, please contact below.
Media Contact
Company Name: Refine Cosmetics
Contact Person: Bob Rai
Email: Send Email
Phone: (949) 444-6077
Country: United States
Website: www.refineskincaremen.com