Online Retailer Offers 9-Piece Coronavirus Safety Kit for Households to Stay Safe During Crisis
BuyGloves Promotes COVID-19 Home Essentials Kit to Keep Families Safe During Pandemic.
Online retailer BuyGloves has launched a new 9 piece COVID-19 Home Essentials Kit to help keep families and households safe and healthy during the coronavirus pandemic.
Designed to be as practical as possible and cover all bases for healthy precautions during the pandemic, the Home Essentials Kit contains hand sanitizer in both gel (16 oz) and spray (4 oz) formats. This offers the most convenient application possible whether out and about at the mall or place of work, or at the kitchen sink in the home.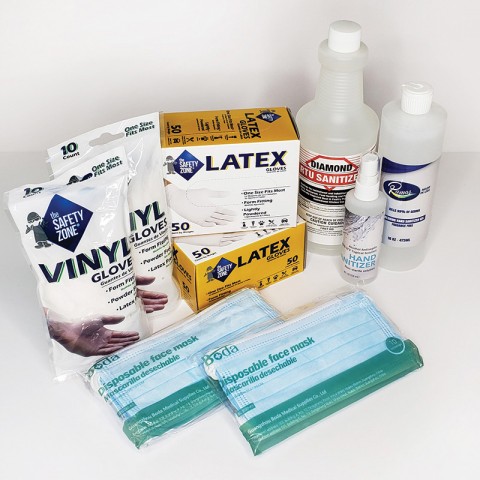 The kits also contain a 32 oz sanitization and disinfectant solution that enables thorough cleansing of any products bought into the household that contain some risk of contamination. Whether school supplies if there was an outbreak, or groceries in which other shoppers were not wearing masks, this enables customers to sterilize their products for safety and to guarantee no traces of the virus remain on the surface of the goods.
For more risky tasks outside of the home, or for unpacking shopping, the Home Essentials Kids also contain two packs of vinyl gloves that stretch to fit most hand sizes, and another two packs of lightly powdered gloves. With a total of 40 pairs of gloves, there are plenty to go round, and with the different options, different types of jobs and situations are all covered.
Perhaps the most important item in the pack are two packs of 10 of blue surgical masks. With these disposable, medical-grade masks customers can go about their daily business outside of the safe confines of their household knowing that their breathing is as safe as it can possibly be. Whether as a precautionary measure to enjoy some leisure time outdoors, or for an essential trip to the busier environment of the shopping mall to buy food and supplies, these masks are ideal to stay safe during the pandemic and to limit the spread and inhalation of potentially harmful droplets.
With this convenient COVID-19 Home Essentials Kit, households and families are completely equipped for every scenario during the coronavirus pandemic. Even families that have decided to stay at home as much as possible need to venture out to buy essential supplies, and this kit ensures that while they do so they can stay as safe as it is possible to be.
Retailing at only $39.99 from BuyGloves, these kits can be easily ordered online, and with rapid shipping and delivery, customers will soon have everything they need to handle and stay safe from the virus in different situations. This COVID-19 Home Essentials Kit is therefore a highly recommended solution to keeping yourself and your family safe in these times, and can easily be re-ordered online to replenish when your stocks run low.
About BuyGloves
BuyGloves is an online retailer that aims to be a convenient destination for personal protective equipment during the coronavirus pandemic. The retailer offers products designed for industrial and individual use, as well as providing specific supplies for medical professionals. The COVID-19 Home Essentials Kit aims to provide for all safety aspects with its 9 pieces of equipment designed to cater for all environments and potential contact points with the virus.
Media Contact
Company Name: Buy Gloves
Contact Person: Media Relations
Email: Send Email
Phone: 347-990-9200
Address:3415 Guider Ave, suite 3C
City: Brooklyn
State: NY, 11235
Country: United States
Website: https://buygloves.com/