Ty Gray-EL Drops His Debut Single Titled "Walk To The Ballot Box"
Award-winning poet and ordained Minister of the Gospel, Ty Gray-EL, releases his first single titled "Walk To The Ballot Box" off his upcoming album to encourage more black people to vote
Ty Gray-EL is set to drop his new single on October 2, 2020, at the Community Unity Festival in Grand Rapid Michigan. The new record titled "Walk To The Ballot Box" is particularly timely as the poet, minister, and entertainer aims to inspire black people in America to take charge in the forthcoming elections.
It is a presidential election year in the United States and the black community often makes headlines for not turning out. Both the Republicans and Democrats, have employed different ways to get as many electorates as possible to their side. However, Ty Gray-EL is taking his grassroots campaign a notch higher by encouraging as many black people to go to the polls and make their voices heard using the universal language – music.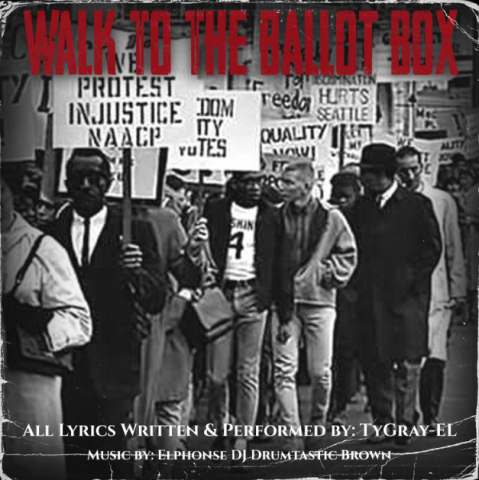 "At this point, there is nothing more important for black people in America than walking to the ballot box," said Ty Gray-EL. "We must vote to remove the hate occupying the White House," he continued.
"Walk To The Ballot Box" is a quote from the iconic civil rights leader, Dr. Martin Luther King Jr. before he was fatally assassinated and Ty Gray-EL is looking to offer a blend of hip-hop and spoken word to deliver the same message as the revolutionary. The song is a blend of Tupac, Gil Scott-Heron, the Last Poets, and Dr. King as he strongly admonished, "A voteless people are a powerless people and the most important step we can take is that short walk to the ballot box."
The timeliness of the project cannot be better, with the Trump administration and the GOP discouraging African Americans from going to the polls on Election Day and spewing unsubstantiated rhetoric about rigged elections. "Walk To The Ballot Box" comes as a clarion call to all who seek freedom, justice, equality, and the democratic process.
In line with Ty's goal of using his talent as a voice for millions of people, the two-time Spoken Word Billboard Award Winner and Poet Laureate of the African Methodist Episcopal Church has written the 'stroll to the poll', theme song/rallying cry for African American's affected by the 2020 Presidential elections.
The song is the first of many from Ty Gray-EL as he is set to release an album in the coming weeks to continue his support for the Black Lives Matter campaign and equality for everyone, regardless of race or gender.
For more information about the new record and other projects from Ty Gray-EL, please visit – https://www.tygrayel.com/. Ty Gray-EL can also be found across several social media platforms, including LinkedIn, YouTube, Twitter and Instagram.
About Ty Gray-EL
Ty Gray-EL is the CEO of TYGRAYEL, LLC and TYGRAYEL RECORDS. He is also an internationally renowned storyteller, author, and recording artist dedicated to restoring the heritage and legacy of Africans in America and throughout the Diaspora.
Media Contact
Company Name: TYGRAYEL, LLC
Contact Person: Ty Gray-EL
Email: Send Email
Phone: 202-681-6830
Country: United States
Website: http://www.tygrayel.com/