Ballreich Snack Food Company is now offered Nationwide Through Mr. Checkout's Direct Store Delivery Distributors.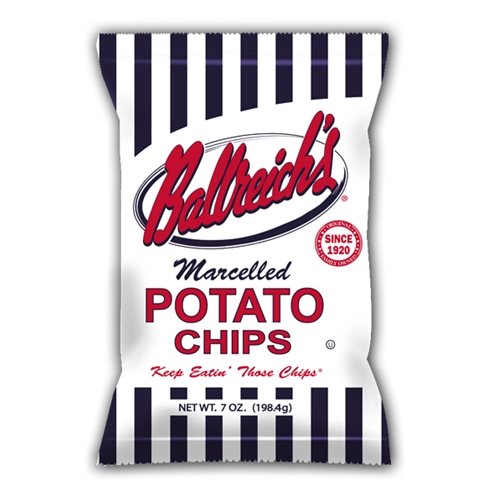 Our Regular "Marcelled" Potato Chips is where it all began 100 yrs ago. It's our classic and most popular snack to date.
The term "marcelled" (which means wavy), taken from the popular ladies' wavy hairstyle of the 1920's.
Ballreich Snack Food Company is a locally owned company founded in 1920 in Tiffin, Ohio. We strive to make the highest quality potato chips and snacks as well as maintaining exemplary customer service. We also focus on giving back to our community, employees, consumers and the environment.
Did you know that the Ballreich's Snack Food Company is not primarily in the business of making potato chips? No! The Ballreich's Snack Food Company is primarily in the business of making traditions! Yes! Everyone has a Ballreich's story…a tradition! Smashing Ballreich's potato chips onto a peanut butter and banana sandwich, refusing to eat your burger without your favorite Ballreich's chip as a side, secretly munching Ballreich's chips at midnight, never serving your best homemade mac 'n cheese without that delicious crushed Ballreich's chip topping…and many, many more such traditions.
Ballreich's has been making traditions for 100 years! In 1920, Fred and Ethel Ballreich started to fry potato chips for their friends and neighbors in their garage at 186 Ohio Avenue in Tiffin. Their chips were so delicious, everyone was clamoring for more. They started by producing four pounds of chips daily from their garage, but the demand became so high that the couple finally decided to start their official business with Fred's brother, an engineer, who designed equipment that could produce 450 pounds of chips a day. Today, three generations later, the Ballreich's Snack Food Company produces 2,000 pounds of chips an hour!
It doesn't sound that complicated, making chips, but there are many challenges to running this highly successful business. Some of the challenges lie in keeping the brand growing, as Ballreich's has always been a successful regional brand, but now expanding nationally.
We focus on keeping up with new technology for the preservation of the freshness of the products, developing new products with unique flavors, and upgrading technology for scan-based trading, placing the product in as many stores as possible, efficiently as possible. While other challenges are those of making sure that potatoes are locally sourced, that delivery of the product is reliable, and keeping all staff healthy during the pandemic.
In honor of the company's 100th anniversary, Ballreich's has launched three new flavors of potato chips—Sweet Thai Chili, Smoked Cheddar and Onion, and Honey Butter. All 3 are available in single serving bags of 1.5oz and 2.75oz, as well as a 9oz family size. While many businesses were limiting their product offering, Ballreich's focused on growth and development!
Media Contact
Company Name: Ballreich Snack Food Company
Contact Person: Jamie Twining
Email: Send Email
Phone: 419-957-6674
Country: United States
Website: https://mrcheckout.net/ballreich-snack-food-company/