Simple Ways to Improve the Efficiency of Liquid Nitrogen Tank
The Liquid nitrogen tank is designed to preserve and transport various biological samples under cryogenic conditions. Since being introduced into the field of life science in the 1960s, the technology has been widely applied in many areas thanks to increasing recognition of its value. In medical and health care, a liquid nitrogen tank is mainly used by medical research institutions, pharmaceutical laboratories, and hospitals to preserve organs, tissues, blood, and cells under cryogenic conditions. Its widespread application has greatly promoted the development of clinical cryomedicine.
The performance of a liquid nitrogen tank is central to the effectiveness and safety of sample storage. The question is what kind of liquid nitrogen tank is of good quality and how to make the best use of product? Check out the following ways to make a liquid nitrogen tank a right-hand absolute need for medical workers!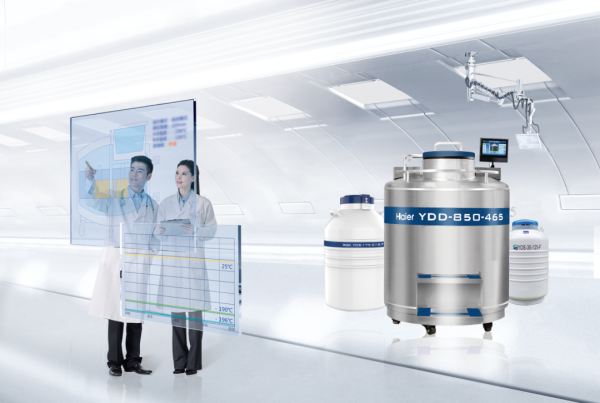 1. Multilayer protection for ultimate safety
In recent years, explosion accidents of liquid nitrogen tanks due to inferior shell materials were reported from time to time, resulting in widespread attention on the safety of such tanks. Additionally, as a volatile substance, liquid nitrogen, if consumed too quickly, may inactivate samples and increase operating costs. In designing the liquid nitrogen tank, Haier Biomedical has given top priority to safety of the tank and sample. To that end, the tank shell is made of durable aluminum materials, and the self-pressurized series is constructed using stainless steel. Such materials can withstand the harshest environments and prolong the physical service life. Therefore, the tank is able to minimize liquid nitrogen evaporation loss and avert frost build-up and cross-contamination. The products advanced vacuum and insulation technology can ensure low temperature storage for months.
2. More accurate control with just one click
Stability in temperature and liquid nitrogen level is central to normal functioning and operation of liquid nitrogen tanks. Haier Biomedical's liquid nitrogen tank is designed with leading vacuum and super insulation technology to ensure that the temperature is up to standard and is uniformly distributed, while effectively reducing loss of liquid nitrogen. The temperature difference does not exceed 10°C throughout the storage area. Even when samples are stored in vapor phase, the temperature at the top of the sample rack is as low as -190°C. The tank is equipped with a smart IoT stopper and an independent, high accuracy measuring system for liquid level and temperature. You can know whether the temperature and liquid level is within a safe range just by moving your finger!
3. The IoT cloud enables more efficient digital management
Traditionally, liquid nitrogen tanks are inspected, measured and recorded manually. This process involves frequent opening and closing of the lid, not only consuming more users time, but also resulting in fluctuations in the internal temperature. As a result, liquid nitrogen loss would increase, and measurement accuracy cannot be ensured. Empowered by the IoT technology, Haier Biomedical's liquid nitrogen tank has reached interconnection among people, equipment, and samples. The operation and sample status are automatically and accurately monitored and transmitted to the cloud, where all data are permanently stored and traceable to deliver more efficient management.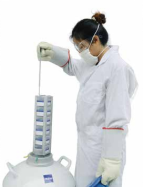 4. Diverse options bring more convenience
As liquid nitrogen tanks are being used in more and more fields, apart from the above functional values, the tanks have also attracted widespread attention as they are suitable, economical, and convenient in meeting the needs in different scenarios and conditions. Haier Biomedical has launched a one-stop liquid nitrogen tank storage solution for all scenarios, covering such conditions as medical treatment, laboratory, cryogenic storage, biological series, and transport series. According to different requirements and purposes, each series is uniquely equipped with a LCD screen, a splash-proof device, a labeled valve, and a roller base. The built-in flexible sample rack offers more convenience in taking samples.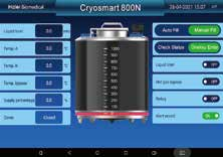 Media Contact
Company Name: Haier Biomedical
Email: Send Email
Phone: +86-532-88935593
Country: China
Website: https://www.haiermedical.com/