Milli D drops new single "Sum Mo" soon after the release of her latest hit single "BMyL" in this year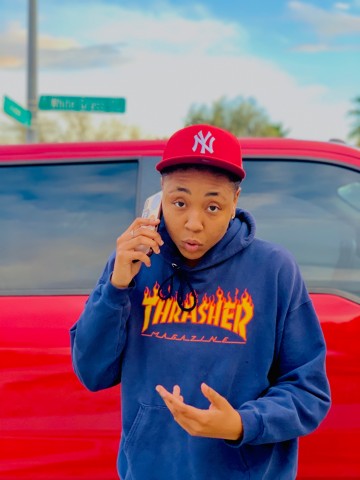 Born out of Las Vegas, Milli D is a talented American rapper who makes unique and refreshing music. Her performance at the sin city nightlife called for attention, and she has received widespread recognition ever since, on leading music platforms like Sound Cloud. Her frank and unorthodox attitude is quite evident in the jabs she makes through her Instagram and twitter handles.
Milli D recently released her latest single titled "Sum Mo" after the successful release of her last single "BMyL" in 2020. Her smooth flowing vocal delivery complemented by rhythmic beats shine through in the latest single "Sum Mo". Just like her last single, Milli D delivers quality in this song as well, garnering constant attention from her fans and music lovers worldwide.
Milli D's previously released hit single "BMyL" stands for "By My Lonely", which is a lyrical story of the trials and tribulations that the artist was going through while writing this track. It is one of the few slow-paced songs the artist has created. Many people will connect to this song at many levels, as sadness and melancholy is something that we all deal with in our lifetime at some point. "BMyL" is accompanied by a music video that is shot in an intimate setting to capture the emptiness that the artist intended to relay through her song. Apart from "BMyL", there are several other astounding songs up the sleeves of the artist like, "Sum Mo", "Win", and others.
Telling about her musical journey so far, Milli D says, "My musical journey started young. I learned 3 instruments before the age of 10, and by that age, I began writing music, and since the age of 16, I've been recording. Never thought I would become so invested in what used to be a hobby, however, I am very glad I did."
Milli D has always found herself attracted to music since the very beginning. Persuaded by her close friend and artist, to pursue a career in music, she moved further and instantly fell in love with music. She aims to make music that is powerful and influential and would help her achieve greater things in life.
Milli D's music is based on a high tempo that portrays her energy and powerful rhythmic sound well. Her new-age lyrical fire clearly stands out in all of her songs, to which the listeners can instantly connect. She urges her fans to keep supporting her, as their love is all that helps her keep going and making amazing music.
Listen to her latest single "Sum Mo" and "BMyL" on Spotify.com.
Media Contact
Company Name: Milli D Music
Contact Person: Milli D
Email: Send Email
Country: United States
Website: www.instagram.com/millidmusic/