Vasomotor Symptoms Epidemiology Forecast till 2030
DelveInsight's 'Vasomotor symptoms (Hot flashes/Night sweats) Epidemiology Forecast—2030' report delivers an in-depth understanding of the Vasomotor symptoms including Hot flashes or night sweats, historical and forecasted epidemiology in the United States, EU5 (Germany, Spain, Italy, France and the United Kingdom) and Japan.
Vasomotor Symptoms (VMS) are one of the major symptoms of menopause that principally includes hot flashes (HF) and night sweats (NS) during menopause and occurs in majority of women across the globe. A woman with VMS, experiences abundant heat accompanied by sweating and flushing, especially around head, neck, chest, and upper back region. VMS results from temperature dysfunction that occurs due to changes in gonadal hormones.
Scope of Vasomotor symptoms Report
• The Vasomotor symptoms (Hot flashes/Night sweats) report covers a detailed overview explaining its causes, symptoms, classification, pathophysiology, diagnosis and treatment patterns
• The Vasomotor symptoms (Hot flashes/Night sweats) Epidemiology Report and Model provide an overview of the risk factors and global trends of Vasomotor symptoms (Hot flashes/Night sweats) in the seven major markets (7MM: US, France, Germany, Italy, Spain, UK, and Japan)
• The report provides insight about the historical and forecasted patient pool of Vasomotor symptoms (Hot flashes/Night sweats) in seven major markets covering the United States, EU5 (Germany, Spain, France, Italy, UK) and Japan
• The report helps to recognize the growth opportunities in the 7MM with respect to the patient population
• The report assesses the disease risk and burden and highlights the unmet needs of Vasomotor symptoms
• The report provides the segmentation of the Vasomotor symptoms (Hot flashes/Night sweats) epidemiology by -specific Prevalent Cases of Vasomotor symptoms (Hot flashes/Night sweats) in 7MM
• The report provides the segmentation of the Vasomotor symptoms (Hot flashes/Night sweats) epidemiology by Gender-specific Cases of Vasomotor symptoms (Hot flashes/Night sweats) in 7MM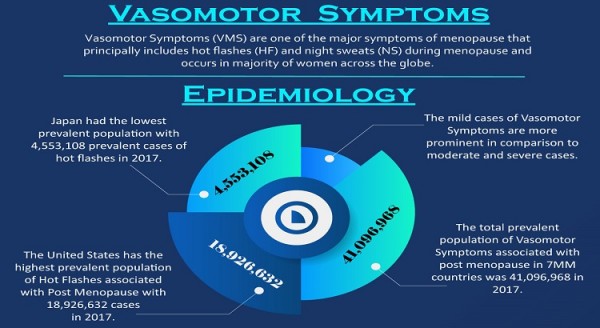 1. Key Insights
2. Vasomotor Symptoms (Hot Flashes/Night Sweats): Epidemiology Overview at a Glance
2.1. Total Patient Share (%) Distribution of Vasomotor Symptoms (Hot Flashes/Night Sweats) in 2017
2.2. Total Patient Share (%) Distribution of Vasomotor Symptoms (Hot Flashes/Night Sweats) in 2030
3. Executive summary
4. Organizations
5. Epidemiology Methodology
6. Vasomotor Symptoms (VMS) associated with menopause: Disease Background and Overview
6.1. Introduction
6.2. Vasomotor Symptoms (Hot Flashes/Night Sweats)
6.3. Signs and Symptoms of VMS
6.4. Pathophysiology of VMS
6.5. Risk factors for VMS
6.6. Effects of VMS
6.7. Premature (early) Menopause
6.8. Menopause Associated with Breast Cancer Treatment
7. Epidemiology and Patient Population
7.1. Key Findings
8. Total Prevalent cases of Vasomotor Symptoms (Hot Flashes/Night Sweats) in Post-menopause in 7MM
9. Country Wise-Epidemiology of Hot Flashes Associated with Post-menopause
9.1. United States
9.1.1. Assumptions and Rationale
9.1.2. Total Prevalent Population of Vasomotor Symptoms (Hot Flashes/Night Sweats) Associated with Post-menopause in the United States
9.1.3. Severity-Specific cases of Hot Flashes in Post-menopause in the United States
9.2. EU5 Countries
9.3. Germany
9.3.1. Assumptions and Rationale
9.3.2. Total Prevalent Population of Vasomotor Symptoms (Hot Flashes/Night Sweats) Associated with Post-menopause in Germany
9.3.3. Severity-Specific cases of Hot Flashes in Post-menopause in the Post-menopause in Germany
9.4. France
9.4.1. Assumptions and Rationale
9.4.2. Total Prevalent Population of Vasomotor Symptoms (Hot Flashes/Night Sweats) Associated with Post-menopause in France
9.4.3. Severity-Specific cases of Hot Flashes in Post-menopause in the with Post-menopause in France
9.5. Italy
9.5.1. Assumptions and Rationale
9.5.2. Total Prevalent Population of Vasomotor Symptoms (Hot Flashes/Night Sweats) Associated with Post-menopause in Italy
9.5.3. Severity-Specific cases of Hot Flashes in Post-menopause in the Post-menopause in Italy
9.6. Spain
9.6.1. Assumptions and Rationale
9.6.2. Total Prevalent Population of Vasomotor Symptoms (Hot Flashes/Night Sweats) Associated with Post-menopause in Spain
9.6.3. Severity-Specific cases of Hot Flashes in Post-menopause in the Post-menopause in Spain
9.7. The United Kingdom
9.7.1. Assumptions and Rationale
9.7.2. Total Prevalent Population of Vasomotor Symptoms (Hot Flashes/Night Sweats) Associated with Post-menopause in the UK
9.7.3. Severity-Specific cases of Hot Flashes in Post-menopause in the Post-menopause in the UK
9.8. Japan
9.8.1. Assumptions and Rationale
9.8.2. Total Prevalent Population of Vasomotor Symptoms (Hot Flashes/Night Sweats) Associated with Post-menopause in Japan
9.8.3. Severity-Specific cases of Hot Flashes in Post-menopause in the Post-menopause in Japan
10. KOL Views
11. Appendix
11.1. Report Methodology
12. DelveInsight Capabilities
13. Disclaimer
14. About DelveInsight
Scope of the Report
Media Contact
Company Name: DelveInsight
Contact Person: Priya Maurya
Email: Send Email
Phone: +919650213330
City: Albany
State: New York
Country: United States
Website: https://www.delveinsight.com/