Changing Market Dynamics of Amyotrophic Lateral Sclerosis in the Seven Major Markets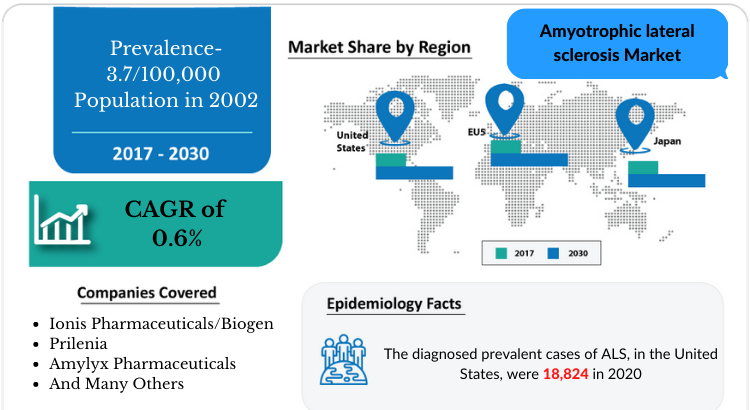 DelveInsight has launched a new report on Amyotrophic Lateral Sclerosis Market
Amyotrophic Lateral Sclerosis (ALS), commonly known as Lou Gehrig's disease, is a group of rare neurological diseases that mainly involve the nerve cells (neurons), responsible for controlling voluntary muscle movement. Voluntary muscles produce movements like chewing, walking, and talking. The disease is progressive, meaning the symptoms get worse over time. ALS belongs to a broader group of disorders known as motor neuron diseases, which are caused by gradual deterioration and death of motor neurons. Motor neurons are nerve cells that extend from the brain to the spinal cord and to muscles throughout the body.
Request for free sample copy- https://www.delveinsight.com/sample-request/amyotrophic-lateral-sclerosis-market
The Amyotrophic Lateral Sclerosis market report provides an edge while developing business strategies, by understanding trends shaping and driving the Amyotrophic Lateral Sclerosis (ALS) market.
Amyotrophic Lateral Sclerosis Treatment
There is no cure and no proven treatment for ALS. However, available treatments can help control symptoms, prevent unnecessary complications, and make the patient's life easier. The disease progresses over 3–5 years, making voluntary movements of arms and legs impossible. In time, the patient will need help with personal care, eating, and mobility.
Movement of the diaphragm for breathing is also impaired, and the patient may need a ventilator for breathing. Most people with ALS die from respiratory failure. For most people with ALS, the main treatment may involve the management of symptoms. Supportive care is best provided by multidisciplinary teams of healthcare professionals such as physicians, pharmacists, therapists—physical, occupational, and speech—nutritionists, social workers, respiratory therapists, clinical psychologists, and home care and hospice nurses.
Key player of the Amyotrophic Lateral Sclerosis Market Report
Mitsubishi Tanabe Pharma Corporation
Sanofi/Covis
Aquestive Therapeutics
And many others
Amyotrophic Lateral Sclerosis Treatment Market
Currently, there is no cure for ALS and no effective treatment to halt or reverse, the progression of the disease. The treatment landscape of ALS includes multidisciplinary care, such as physical therapy, speech therapy, dietary counselling, heat or whirlpool therapy and others. Moreover, there are four drugs approved by the US FDA to treat ALS, namely Riluzole, Nuedexta, Radicava, and Tiglutik. Medications are also prescribed to help manage symptoms of ALS, including pain, muscle cramps, stiffness, excess saliva and phlegm, and the pseudobulbar affect (involuntary or uncontrollable episodes of crying and/or laughing, or other emotional displays). Drugs also are available to help individuals with pain, depression, sleep disturbances, and constipation.
Amyotrophic Lateral Sclerosis Market Disease
Nuedexta is a combination drug containing dextromethorphan hydrobromide (an uncompetitive NMDA receptor antagonist and sigma-1 agonist) and quinidine sulfate (a CYP450 2D6 inhibitor) indicated for the treatment of pseudobulbar affect (PBADextromethorphan (DM) is a sigma-1 receptor agonist and an uncompetitive NMDA receptor antagonist. Quinidine increases dextromethorphan plasma levels by competitively inhibiting cytochrome P450 2D6, which catalyzes a major biotransformation pathway for dextromethorphan. The mechanism by which dextromethorphan exerts therapeutic effects in patients with pseudobulbar affect is unknown
Amyotrophic Lateral Sclerosis Drugs
Radicava (edaravone injection)
Rilutek (Riluzole)
Exservan (Riluzole oral film)
Nuedexta (dextromethorphan hydrobromide/quinidine sulfate)
And many others
Amyotrophic Lateral Sclerosis Market Report Scope
The report covers the descriptive overview of Amyotrophic lateral sclerosis (ALS), explaining its causes, signs and symptoms, pathophysiology, diagnosis and currently available therapies
Comprehensive insight has been provided into the Amyotrophic lateral sclerosis (ALS) epidemiology and treatment in the 7MM
Additionally, an all-inclusive account of both the current and emerging therapies for Amyotrophic lateral sclerosis (ALS) are provided, along with the assessment of new therapies, which will have an impact on the current treatment landscape
A detailed review of Amyotrophic lateral sclerosis (ALS) market; historical and forecasted is included in the report, covering drug outreach in the 7MM
The report provides an edge while developing business strategies, by understanding trends shaping and driving the global Amyotrophic lateral sclerosis (ALS) market
Request for free sample copy- https://www.delveinsight.com/sample-request/amyotrophic-lateral-sclerosis-market
Table of content
1. Key Insights
2. Executive Summary of Amyotrophic lateral sclerosis (ALS)
3. Competitive Intelligence Analysis for Amyotrophic lateral sclerosis (ALS)
4. Amyotrophic lateral sclerosis (ALS): Market Overview at a Glance
5. Amyotrophic lateral sclerosis (ALS): Disease Background and Overview
6. Patient Journey
7. Amyotrophic lateral sclerosis (ALS) Epidemiology and Patient Population
8. Treatment Algorithm, Current Treatment, and Medical Practices
9. Unmet Needs
10. Key Endpoints of Amyotrophic lateral sclerosis (ALS) Treatment
11. Marketed Products
12. Emerging Therapies
13. Amyotrophic lateral sclerosis (ALS): Seven Major Market Analysis
14. Attribute analysis
15. 7MM: Market Outlook
16. Access and Reimbursement Overview of Amyotrophic lateral sclerosis (ALS)
17. KOL Views
18. Market Drivers
19. Market Barriers
20. Appendix
21. DelveInsight Capabilities
22. Disclaimer
23. About DelveInsight
Reasons to buy
The report will help in developing business strategies by understanding trends shaping and driving the Amyotrophic lateral sclerosis (ALS) market
To understand the future market competition in the Amyotrophic lateral sclerosis (ALS) market and Insightful review of the key market drivers and barriers
Organize sales and marketing efforts by identifying the best opportunities for Amyotrophic lateral sclerosis (ALS) in the US, Europe (Germany, Spain, Italy, France, and the United Kingdom) and Japan
Identification of strong upcoming players in the market will help in devising strategies that will help in getting ahead of competitors
Organize sales and marketing efforts by identifying the best opportunities for Amyotrophic lateral sclerosis (ALS) market
To understand the future market competition in the Amyotrophic lateral sclerosis (ALS) market
Related Reports
Media Contact
Company Name: DelveInsight Business Research LLP
Contact Person: Vinita Rakheja
Email: Send Email
Phone: 9193216187
Address:304 S. Jones Blvd #2432
Country: United States
Website: www.delveinsight.com/