New book "Getting to My Enough" by Dr. Marie Melanie Brown Mercadel is released, an empowering memoir and self-help guide for overcoming trauma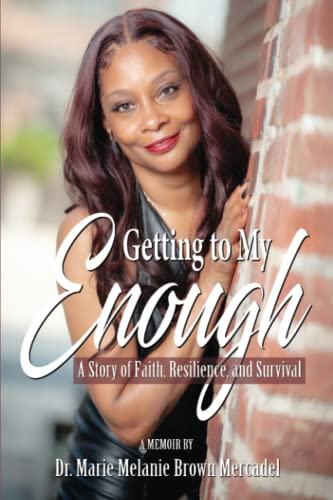 "Getting to My Enough: A Story of Faith, Resilience, and Survival" by Dr. Marie Melanie Brown Mercadel has been released worldwide. This 201-page memoir is both the vulnerable, honest account of the author's experience with childhood abuse and an inspirational story of contending with the lasting trauma that came with it. Her wisdom and perseverance also make the book a powerful guide for survivors of all kinds.
By sharing her story, including the methods and mindset that helped her through the healing journey, Dr. Mercadel aims to eliminate the stigma surrounding mental health, particularly in the black community, and provide readers with the guidance they need to find post-traumatic growth.
With a straightforward, open-hearted account of her own story, as well as practical messages and "Marie-isms" that instill hope for creating a brighter future, Dr. Mercadel's experiences provide a path through trauma, and spark much needed conversations surrounding the importance of mental wellness and self-care. Through faith, education, deep personal reflection, and dedication to action, her story actively dispels myths, inspires courage, and sets the stage for processing emotions to find forgiveness.
This memoir goes beyond telling the author's account of abuse and loss, and uses a harrowing personal story to drive home important messages of awareness around mental health, childhood trauma, and taking the steps necessary for healing.
Getting to My Enough: A Story of Faith, Resilience, and Survival (ISBN: 9781955622523) can be purchased through retailers worldwide, including Barnes and Noble and Amazon. The paperback retails for $24.99. Review copies and interviews are available upon request. The author can be contacted by email at [email protected], or by phone at (619) 847-9577.
Learn more at www.mercadelconsultingsolutions.net
From the back cover:
In her memoir, Getting To My Enough, Dr. Marie Brown Mercadel describes her remarkable journey of persevering through unspeakable childhood trauma, the loss of a baby as a teenager, and her tenacious resolve to get to her enough. Her frank and detailed descriptions of her life experiences are riveting and provide proof that it is possible to achieve personal triumphs in spite of the odds.
She is courageous in writing about the deep-seated emotions that caused her to be overwhelmed with self-doubt, fear, and shame for much of her adult life. Her acts of forgiveness and the adoption of self-love represent an important source of her healing.
Getting To My Enough reveals how a broken and damaged girl gained inner peace, affirmed the positive aspects of her life, and embarked on a mission to mentor and motivate women dealing with similar issues. This book is a cathartic experience that examines both the power of determination and the will to survive.
About the author:
Dr. Marie Brown Mercadel is a retired public servant who has served communities in North Carolina, Texas, California, and Louisiana. Born in Jacksonville, North Carolina, she has traveled throughout the United States supporting her husband, Master Gunnery Sergeant Alvin R. Mercadel Jr., USMC Retired, in his military career.
Dr. Mercadel completed her undergraduate studies at North Carolina Central University in Durham, North Carolina, and her master's degree and doctorate at the University of Phoenix. She also holds certifications in Lean Six Sigma, and Diversity, Equity, and Inclusion.
She resides in North Carolina and is the sole proprietor of Mercadel Consulting Solutions LLC. A certified strengths-based leadership coach; she also provides mentoring, leadership development, and motivational speaking services. She recently conducted her first TEDx talk on the subject of healing out loud.
Dr. Marie is a shopping connoisseur and loves to brag about owning more than three hundred pairs of shoes. She enjoys cooking, fashion, gardening, running, weightlifting, and all things Peloton.
For more information, please connect with Dr. Marie at mercadelconsultingsolutions.net, on Instagram at @drmercconsults, and on Twitter at @dr_Marie_speaks.
Media Contact
Company Name: MindStir Media LLC
Contact Person: Jen McNabney
Email: Send Email
Phone: 800-767-0531
Address:1 New Hampshire Ave Suite 125
City: Portsmouth
State: NH
Country: United States
Website: https://mindstirmedia.com/