Proteus Syndrome Market to Witness Upsurge in Growth During the Forecast Period (2022-2032), Examine DelveInsight | Key Companies – Merck (Miransertib/MK-7075)
As per DelveInsight, the Proteus Syndrome Market is anticipated to evolve immensely in the coming years owing to the increasing prevalent population of Proteus Syndrome patients in the 7MM, the improvement in healthcare spending across the world, and the launch of new therapies in the market. There are several potential drug candidates in the early, middle, and late developmental stages of development.
DelveInsight's "Proteus Syndrome Market Insights, Epidemiology, and Market Forecast 2032" report delivers an in-depth understanding of the disease, historical and forecasted epidemiology, as well as the Proteus Syndrome market size, share, trends, and growth opportunities in the seven major markets (7MM) (i.e., the United States, EU4 (Germany, Spain, Italy, France), the United Kingdom and Japan).
The Proteus Syndrome market report covers emerging drugs, current treatment practices, market share of individual therapies, and current & forecasted market size from 2019 to 2032. It also evaluates the current treatment practice/algorithm, key drivers & barriers impacting the market growth, and unmet medical needs to curate the best of the opportunities and assess the underlying potential of the market.
Proteus Syndrome: An Overview
Proteus syndrome is an extremely rare but chronic, or long-term, condition. It causes an overgrowth of skin, bones, blood vessels, and fatty and connective tissue.
Proteus syndrome is a rare disorder characterized by overgrowth of various tissues of the body. The cause of the disorder is a mosaic variant in a gene called AKT1. Disproportionate, asymmetric overgrowth occurs in a mosaic pattern (i.e., a random "patchy" pattern of affected and unaffected areas).
Proteus syndrome may affect bone and connective tissue, fatty tissues, skin, central nervous system, and internal organs (viscera). The specific symptoms and severity vary greatly from patient to patient, most affected individuals are born without any noticeable symptoms. Some patients can have brain overgrowth apparent at birth. Overgrowth usually begins between 6–18 months; bone, connective tissue, and fat are the most commonly affected tissues in the body.
Proteus Syndrome Market Key Facts
As per the Committee for Orphan Medicinal Products (COMP) Proteus syndrome affected less than 0.01 in 10,000 people in the European Union (EU). This was equivalent to a total of fewer than 500 people*.

In a study by Julie C. et al. (2017), the median age at diagnosis was about 19 months of age, and 75% were diagnosed by age 3.2 years.

According to the study by Mojdeh S. et al. (2021), Proteus syndrome is more common in males (male-to-female ratio of 2:1) and has an estimated prevalence of one per one million births.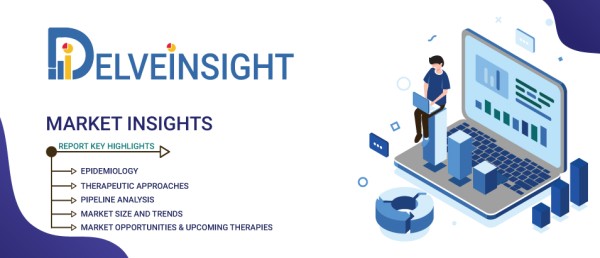 The market outlook section of the report helps to build a detailed comprehension of the historical, current and forecasted Proteus Syndrome market size by analyzing the impact of current and emerging pipeline therapies. It also thoroughly assesses the market drivers & barriers, unmet needs, and emerging technologies set to impact the market dynamics.
The report gives complete detail of the Proteus Syndrome market trend for each marketed drug and mid & late-stage pipeline therapies by evaluating their impact based on the annual cost of therapy, their Mechanism of Action (MOA), Route of Administration (ROA), molecule types, competition with other therapies, brand value, and their impact on the market.
Proteus Syndrome Epidemiology Assessment
The epidemiology section provides insights into the historical, current, and forecasted epidemiology trends in the seven major countries (7MM) from 2019 to 2032. It helps to recognize the causes of current and forecasted epidemiology trends by exploring numerous studies and research. The epidemiology section also provides a detailed analysis of diagnosed and prevalent patient pools, future trends, and views of key opinion leaders.
The Report Covers the Proteus Syndrome Epidemiology, Segmented as –
Total Prevalent Cases of Proteus Syndrome in the 7MM [2019–2032]

Gender-specific Cases of Proteus Syndrome in the 7MM [2019–2032]

Diagnosed and treatable cases of Proteus Syndrome in the 7MM [2019–2032]

Phenotype-specific Cases of Proteus Syndrome in the 7MM [2019–2032]
Proteus Syndrome Drugs Uptake and Pipeline Development Activities
The drug uptake section focuses on the uptake rate of potential drugs recently launched in the Proteus Syndrome market or expected to be launched during the study period. The analysis covers the Proteus Syndrome market uptake by drugs, patient uptake by therapies, and sales of each drug. Moreover, the therapeutics assessment section helps understand the drugs with the most rapid uptake and the reasons behind the maximal use of the drugs. Additionally, it compares the drugs based on market share.
The report also covers the Proteus Syndrome pipeline development activities. It provides valuable insights about different therapeutic candidates in various stages and the key companies involved in developing targeted therapeutics. It also analyzes recent developments such as collaborations, acquisitions, mergers, licensing patent details, and other information for emerging therapies.
Learn How the Proteus Syndrome Market Will Evolve and Grow by 2032 @
https://www.delveinsight.com/sample-request/proteus-syndrome-market
Proteus Syndrome Therapeutics Analysis
There's no cure for Proteus syndrome. Treatment generally focuses on minimizing and managing symptoms. It is directed toward the specific symptoms that are apparent in each individual. Multiple orthopedic procedures are usually necessary to try and control the rapid overgrowth associated with Proteus syndrome. Rapamycin is a drug of choice in the treatment of Proteus syndrome, which has been used as an effective immunosuppressant.
Several major players, such as Merck, and others are in the process of developing potential therapies for the treatment of Proteus Syndrome. The launch of emerging therapies is expected to significantly impact the treatment scenario of Proteus Syndrome in the upcoming years.
Miransertib (MK-7075) clinical trial sponsored by Merck Sharp & Dohme Corp. It is an oral pan-AKT inhibitor that reduces signals from the AKT1 protein. This may stabilize some of the overgrowths in people with Proteus syndrome. It was observed that Miransertib has a favorable safety profile and durable benefit of improving symptoms of pain and slowing the progression of overgrowth in Proteus syndrome in a single individual case report.
The Report Covers the In-depth Assessment of the Emerging Drugs & Key Companies. Download the Sample Report to Learn More @
https://www.delveinsight.com/sample-request/proteus-syndrome-market
Table of Content (TOC)
1. Key Insights
2. Executive Summary
3. Proteus Syndrome Competitive Intelligence Analysis
4. Proteus Syndrome Market Overview at a Glance
5. Proteus Syndrome Disease Background and Overview
6. Proteus Syndrome Patient Journey
7. Proteus Syndrome Epidemiology and Patient Population (In the US, EU5, and Japan)
8. Proteus Syndrome Treatment Algorithm, Current Treatment, and Medical Practices
9. Proteus Syndrome Unmet Needs
10. Key Endpoints of Proteus Syndrome Treatment
11. Proteus Syndrome Marketed Products
12. Proteus Syndrome Emerging Drugs and Latest Therapeutic Advances
13. Proteus Syndrome Seven Major Market Analysis
14. Attribute Analysis
15. Proteus Syndrome Market Outlook (In US, EU5, and Japan)
16. Proteus Syndrome Access and Reimbursement Overview
17. KOL Views on the Proteus Syndrome Market
18. Proteus Syndrome Market Drivers
19. Proteus Syndrome Market Barriers
20. Appendix
21. DelveInsight Capabilities
22. Disclaimer
*The Table of Contents (TOC) is not exhaustive; the final content may vary. Refer to the sample report for the complete table of contents.
Download the Sample PDF to Learn More About the Key Offerings of the Report @
https://www.delveinsight.com/sample-request/proteus-syndrome-market
About DelveInsight
DelveInsight is a leading Business Consultant and Market Research Firm focused exclusively on life sciences. It supports pharma companies by providing comprehensive end-to-end solutions to improve their performance.
Other Trending Healthcare Reports by DelveInsight
The global Spirometers Market is expected to grow at a CAGR of 4.65% during the forecast period from 2023 to 2028 and will reach USD 1,801.66 million by 2028, estimates DelveInsight. The Spirometers Market is observing optimistic market growth due to the factors such as the rising prevalence of various respiratory disorders such as asthma, COPD, bronchitis, lung cancer, and others. Further, the surging geriatric population and increasing exposure to dust, fumes, airborne chemicals, smoking, and others will also drive the market of spirometer market in the given forecast period.
Media Contact
Company Name: DelveInsight Business Research LLP
Contact Person: Shruti Thakur
Email: Send Email
Phone: 09650213330
Address:304 S. Jones Blvd #2432
City: Las Vegas
State: NV
Country: United States
Website: https://www.delveinsight.com/